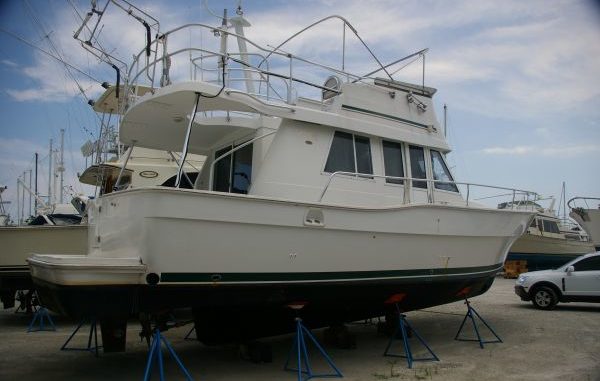 We were referred to this owner by another of our clients. Our first introduction was via e-mail and we agreed to meet face to face in the boatyard while preparing another yacht for summer storage. It's amazing how many of our clients come from direct referrals.
This owner is a former sailor and the MainShip is their first trawler. They cruised the Bahamas and live in Texas. With fuel prices breaking $4 per gallon they decided to leave the boat in Florida. They can return next fall and cruise the Bahamas again before heading north to explore the Chesapeake Bay.
Like all summer storage boats in South Florida, this boat was stripped of all external accessories including the bimini canvas to prevent wind damage. The dinghy was deflated and moved into the saloon to save it from the harsh sun and potential wind damage.
Systems were reviewed and prepared for the long hot summer including the watermaker which was pickled before coming out of the water. As there is no electricity available to run a dehumidifier, this owner chose chemicals to keep the dampness out of their boat.
The battery negative terminals were disconnected to prevent them from going flat. To protect the costly diesel fuel and gasoline, stabilizers were added to the fuel tanks. Lastly the water tanks were treated – be aware that aluminum tanks don't do well when you add Chlorine although fiberglass tanks and bleach are compatible.
The boat was set down and secured with the usual tripods. If a storm approaches the yard will reset the tripods on plywood and chain them together to prevent soil erosion and boat falling over. As part of the storm prep we'll remove window covers at the owners request and secure any last minute items.
In the Fall we will reassemble and prepare the boat for the owners and deliver it to their local marina – ready for their next trip.