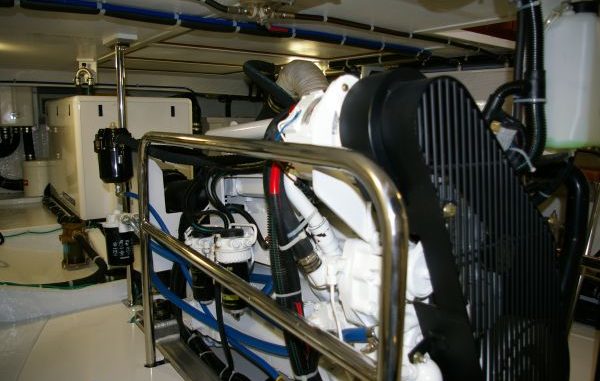 This is a one year old boat that has traveled from Fort Lauderdale, FL to the Chesapeake Bay, Newport, RI and back south to the FL Keys.
The owner asked me to do a complete look over on a crawl through to see if anything on the boat needs attention before traveling back to the Chesapeake. The boat was purchased new and has been well maintained.
I did a complete in-the-water equipment and systems visual inspection. The good news its there was very little to report.
Here are the few (very few) observations and recommendations:
1. Anchor chain. Discharge all the anchor chain and disconnect from the bitter end. Reconnect with a short length of three strand nylon rope and tie or shackle into the bitter end. This will give the opportunity to cut and release the anchor and chain in an emergency by cutting the rope.
2. Things which are out of sight are out of mind. The generator sound shield box is great for reducing the noise level, but it should be removed once in a while. Opening the box top to use a flash light allows a better look into the engine and armature area not visible when checking the oil. Look for any water leaks in the exhaust system or on the electrical components.
3. Lazerette. The two rudder indicator instruments are mounted in an area that was getting crowded with stored items placed in the rudder room. Be aware of storage areas that may also house delicate equipment.
This owner is very aware of the importance of preventative maintenance and has performed filter changes and fluid checks on a regular schedule throughout the past year while underway. After a short rest for winter at the dock, this boat is in great condition and ready to cruise.