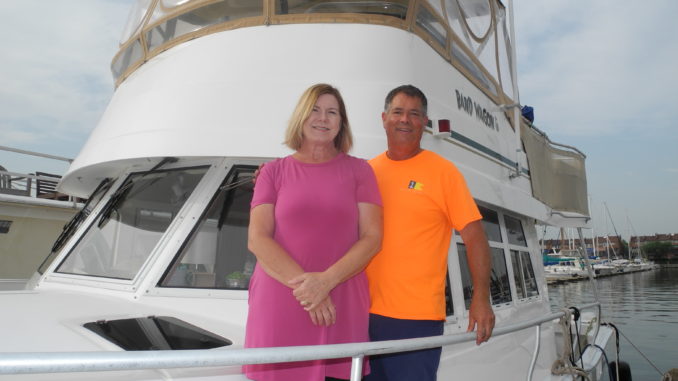 Baltimore. Charm City, Sugar & Spice, Fell's Point and Canton. Add in some trawler training and life is good!
We met this new boat owner couple at our Introduction to Boat Systems seminar in Vero Beach last winter. Now they own a Mainship 39 single engine Yanmar with a bow thruster and asked me to help them become more confident with operating their boat.
It's an easy flight into BWI, something to consider when you are meeting up with friends and family while cruising on your boat. So we agreed on Baltimore for our training rendezvous. After a short train ride downtown and a hop aboard the local Water Taxi I arrived at Anchorage Marina to start training in the Inner Harbor of Baltimore.
A great advantage about training in Baltimore's Inner Harbor are all the interesting sights for before and after training. NAVY Ships- old and modern, Domino's Sugar refinery, wonderful museums and the rich history of young America. Remember Fort McHenry and The Star Spangled Banner? And the sumptuous culinary cultures found in the surrounding neighborhoods make dining out an absolute must. Now let's get down to the nitty gritty of training.
The Mainship 39 has a single engine that has a walking effect when reversing. That means it will not go straight while traveling backwards. While this may seem strange, try to consider the propeller as a screw. Think of screwing something in or out as the direction of rotation. If your propeller turns counterclockwise while in forward gear then it will turn clockwise while in reverse gear. Grabbing the water in that direction, the propeller will then pull the stern in that same direction. When you begin to understand how the boat will reverse then you can plan to use that to your advantage. Don't forget to factor in the wind and current too!
Docking practice included many repetitions of stern-in and bow-in, until the crew was comfortable with this team skill. We've posted a few short videos of docking training on our YouTube channel with one right below. Practice is the key to success when learning any new skill. Docking is no exception!
Anchoring is another essential skill for a cruiser to master so we spent some time anchoring in the Inner Harbor too. This location can be a challenge with the silted bottom and currents created by the runoff of late spring rains. Anchoring over our lunch break allowed this crew to be awake and aware while adjusting to how effective the boat's anchor equipment is. The proper scope and the correct anchor can ease your concerns when it's time for an overnight at swinging on the hook.
Systems Training was detailed during our two day seminar a few weeks prior so we did a little brush up before ever leaving the dock. Every boat has it's secrets to discover and learn.
With just a few days scheduled for training we had a busy time getting everything covered. Take a tour of our photo journal below and watch the video for more docking tips.
Join us in Vero Beach Florida for our upcoming classes and subscribe to our YouTube channel to watch more of our real world video clips. Ask Captain Chris 772-205-1859