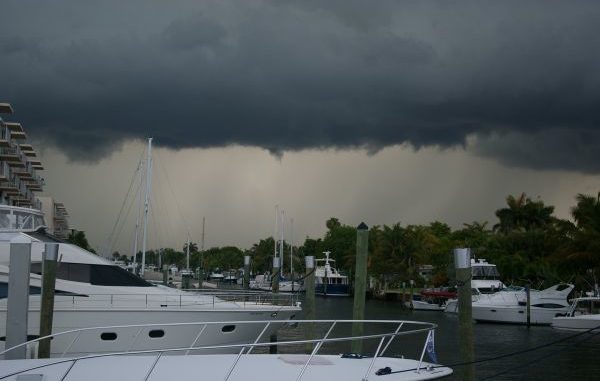 Vessel type/length – Kadey-Krogen Trawler 48
Engine type/horsepower – Single John Deere Diesel
Cruising speed – Economical 8 knots
Starting location – Ft. Lauderdale FL
Destination – Fort Pierce FL
No,… this is not just another offload. This is a new Kadey Krogen NorthSea 48 Trawler with the flybridge helm on the starboard side.
Typical of most offloads we are scheduled for a time to be lifted overboard then cruise away. We build in time during our car drive to the Port Everglades in Ft. Lauderdale in case of traffic or other delays, so we arrive early. But after a few hour delay in unloading the other cargo, we determine that we are on island time. No worries as we have a lot to do before we launch.
This 'Krogen 48 is in the ship's hold, 50 feet below deck. We must carry all our supplies up to the ship's deck, across the catwalk and 50 feet down into the hold. All the while taking care not to trip or slip on the numerous pipes, cleats and other protrusions typical of a container ship. Add to this, just before our arrival the skies opened up and poured 2 inches of rain in one hour. Today is Memorial Day Monday and it sure is HOT and steamy, especially in the hold with NO circulating air. Veteran offload crew, we are prepared with full rain gear, non-slip shoes and LOTS of cleaning supplies.
As we are lifted overboard we are acutely aware of the holiday boat traffic – all the lookie-lews that care more about their cold beverage than the height of their wake. Timing is crucial and we are ready with fenders just in case a wake knocks us toward the ships hull. So far so good.
Because of the long delay from our original launch time we are running out of options for the evening. A few calls to our usual marina stops lets us know tourism is good in FL. No room anywhere in Palm Beach. We still must take on fuel and water so we head over to a nearby marina. By the time this fueling task is complete the typical dark evening storm clouds are here. This marina has room so we make the decision to stay put for the evening. Tomorrow we can start fresh and run offshore in the ocean avoiding the slow downs from 20 bridges.
We cast off before sunrise, heading out the inlet to a mellow sea state. Our cruise north takes us along the coast to Fort Pierce Inlet where we join the ICW once again. We're at our final destination just after sunset. She'll be at Cracker Boy's on Taylor Creek for the haulout and commissioning as soon as they open tomorrow. Yup, we're on island time….