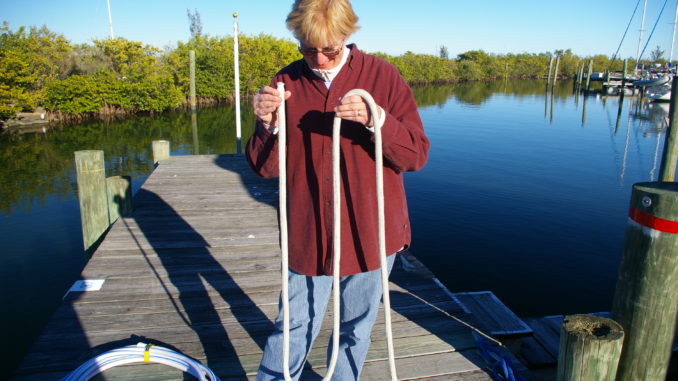 Why a Bowline?
Misty Moose learns why a bowline is an essential knot aboard a trawler. When we dock in a new location with large pilings we can create a loop large enough to drop over the piling and then cleat it to our boat. The bowline allows us to create a fixed-size loop without choking it to the piling. If you invert a loop over a piling and tighten it then it becomes very difficult to remove when you are ready to leave the dock. Check out the photos below to see how this important knot comes together.
Video Too
We all learn differently. After looking at the photos click on this link to our YouTube channel. Alyse show us a few ways to create this Bowline knot. And as a bonus, take a few minutes to watch Captain Chris as he secures a cleat knot and more in our Knots Playlist. You might be amazed at how easy it is when you Ask Captain Chris.
Learn More About Boating
Join us at a seminar to learn this and so much more in our 2-day Cruising 101 FUNdamentals seminar in Vero Beach FL. Call Captain Chris 772-205-1859 or click here to see our agenda upcoming class dates and learn how to register.