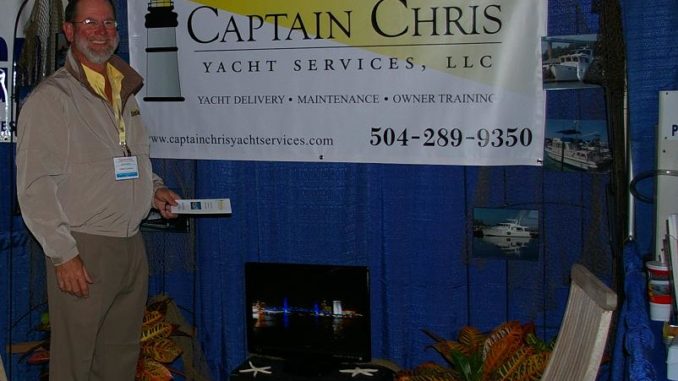 Bringing in the New Year Right – January 2010
What an exciting year of cruising plans with Captain Chris Yacht Services and January is chock full of great ideas! We hope you'll join us at one of the many events here in Florida or maybe you'll schedule a private training event of your own?
January starts with a bang and you will find Captains Chris and Alyse EVERYWHERE!…speaking at boat shows, instructing at the helm, teaching something amazing and amusing in the classroom or chatting about boating at one of our booths.
Captains Chris Yacht Services just completed another offload for Kadey Krogen Yachts. What's an OFFLOAD you say? We picked up a brand new Kadey Krogen 48 from a commercial ship in Fort Lauderdale. Would you like to see how your yacht gets from a HUGE ship to your marina dock? Click here and find out. Great photos tell the story!
Between Christmas and New Year's, Captains Chris & Alyse could be found in the middle of the Gulf of Mexico. Well, how about the eastern edge? We helped the owner of a Kadey Krogen 39 make the overnight crossing from Panama City to the Tampa Bay area. Did we mention it is WINTERTIME? C-c-c-click here for the details of our latest and greatest adventure. And as a gnarly old sea salt used to say, "We cheated death again!"
…And keep reading to find out where YOU should go to be in the know about boating…
January 15-17, 2010 Stuart Boat Show featuring Cruiser Expo.
Dinghy DOs & DON'Ts Hard to decide inflatable vs. RIB vs. rowing pram? How do you plan to use your dinghy? Store it? Launch it? Learn all this and more from Captain Chris Caldwell a seasoned cruiser who started out just like you.
Heads Up! Did you ever notice how boater conversations always end up in the head? Learn from Captain Chris Caldwell about owner maintenance of heads, sea and fresh water flush systems, vacuum and pressure toilets, shower sumps and other unmentionables
Okeechobee – Stuart to Fort Myers Take a virtual trip across the Okeechobee Waterway with Captains Chris & Dave. Become an expert in planning your trip to include 5 locks, the vastness of the shallow lake, the rim route with levee lined canals, roaming cattle and wild life quite different than you'll find on either east or west coast.
Mates Only Be an asset to your captain. Captain Alyse Caldwell will show you the ropes. Do you know how to spring into action should you suddenly need to manage on your own? Learn what a good mate needs to know when the captain is at the helm…and how to keep it fun!
Beyond the Classroom Come take a ride! Sea trial and docking maneuvers with an experienced teaching captain aboard. 2 yachts per day will accommodate 8 cruisers on each boat. Sign up in the Cruisers Café each morning and spend an hour in the afternoon learning a bit more from the professionals.
Pitt Pass – Get up close and personal watching an Oil Change on a live engine. Think this is just a dirty job? Gary Woods and Mike Munson of Advance Marine Tech will use the X-change-R to make this job easy. Use your pit pass to get up close and personal at the Allied Marine haul-out well near the travel lift.
January 27-28 Passagemaker University
Building Cruising Confidence for Couples This couples-oriented day on the water offers tricks and tips on boat handling with an emphasis on team work. The husband and wife team of Captains Chris and Alyse Caldwell will teach you how to formulate a plan and effectively communicate together while cruising. Each couple is given the opportunity to be both the 'captain' and 'first mate" before switching roles.Training aboard includes: Communicating, Vessel Systems Review, Docking, Anchor Techniques, Basic Maintenance, Navigation and Trip Planning. In addition to boat handling, these are all important experiences to master as a couple. Before starting the engines, we cover all lifestyle systems that make boating comfortable in a trawler. Staterooms, a modern galley and where to stow everything are some of the many features to learn about. The pilot house and flybridge allow us to review the essentials of navigation come rain or shine. RADAR and electronic GPS chart plotting is ongoing as we cruise the waterway. We take the mystery out of below deck systems. Docking is made easy both on fixed and floating docks. We share what works in the real world…and sometimes what doesn't.
January 29-31 TrawlerFest- Fort Lauderdale
All About Anchors Ever had your anchor drag or listened to anchor horror stories from your boating buddies? Captain Chris will have a hands-on demonstration to put your mind at ease. Learn about which anchors are right for the sea floor conditions and why. Different types of anchors, how much scope and when you may select chain vs. rope are some topics we'll explore. Just what IS a snubber and where can you find one? Join Captains Chris and Alyse for this interactive presentation and we promise you won't have to clean mud off the deck.
The Right Knot for the Right Job Do you know which knot is appropriate for every situation when you are boating? Captain Chris will teach you this lost skill of knot tying in a hands-on seminar. Which knots are best for long term dockage or just tying up to the fuel dock on a sunny day. Clove hitch, two half hitches, cleat knot, sheepshank and bowline are some of the more common knots we'll cover. No experience is necessary to attend and it's also a good refresher for salty dogs who have gotten a bit rusty.
Don't have a boat yet? Captain Chris Yacht Services can help. Give us a call and reserve time aboard our trawler Sandy Hook. Trawler training has never been more fun!