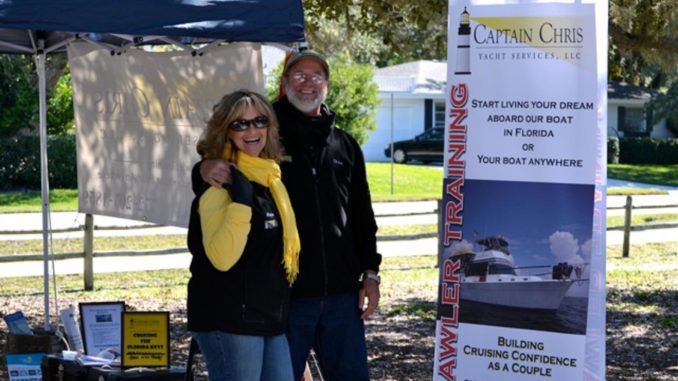 Captain Chris Yacht Services will present seminars at this terrific Gulfport, Mississippi location APRIL 9-12. Hope to see you soon!!
The Gulfcoast Yacht and Boat Show is the largest Boat Show on the Gulf Coast. Previously held in Orange Beach, Alabama this is the third year that the show is presented in the brand new 40 million dollar renovated Jones Park in Gulfport, Mississippi. The new facility accommodates vessels over 100′ in length and Captain Chris will offer FREE Seminars each day in the amphitheater.
*****This is the 2014 schedule….stay tuned for the new line up for 2015!
Thursday VIP Day
We will be in our Seminar Tent to discuss the cruising lifestyle in an informal manner. Come meet Captains Chris & Alyse.
Friday –
11AM Boat Buying Basics -There are many questions to ask yourself before purchasing a new or used boat: How much time will you spend on board? Where will you cruise? How much will it cost? In this seminar Captains Chris & Alyse open your eyes to help you find the Perfect Boat for you.
1PM How We Did It -Are you dreaming about cruising? Discover how a cruising couple got started and continued the lifestyle for 20 years. From their first weekend adventures to living the dream aboard a 44-foot trawler, learn valuable lessons from Captains Chris and Alyse Caldwell as they share their experiences cruising together. (And they still like each other!)
3PM Cruising America's Great Loop -Learn more about the adventure of a lifetime. The Great Loop is a 7000 mile year long journey cruising around the waterways of eastern North America. Attend this seminar and receive a complimentary one year membership to the America's Great Loop Cruisers Association (AGLCA), courtesy of Captain Chris. Discover everything about becoming a looper from Captain Chris.
5PM Bahamas Bound – Destination Abacos -A cruise to the Abacos is no longer the great mystery it once was. Captains Chris and Alyse discuss everything from supplies to available forms of communications, and Customs and immigration issues you'll experience in getting there and back. Modern Electronics make the crossing easier and in less than one day most boats find a wonderful marina and restaurant awaiting their arrival.
Saturday
11AM Cruising the Panhandle, Gulf Port to Apalachicola Ready to start Living the Dream? This seminar will whet your appetite for cruising. Along with some wonderful photos of these cruising grounds and internet resources to help you plan your journey, we will present an overview of the ICW from Gulfport MS to Apalachicola FL with a few different options along the way. Captains Chris & Alyse can help you plot your course for adventure in your own backyard.
1PM Anchoring Essentials – From selecting the right anchor to understanding terms like rode and scope, Captain Chris will ease your learning curve. The next time you anchor you will feel more confident whether it is just to enjoy an afternoon lunch or sleep overnight.
3PM Navigation Made Easy– Learn the Rules of the Road using simple, easy to remember methods. Captains Alyse & Chris will discuss whistle signals, lights, and other navigational assets and help you discover how to interpret Racons, range makers, tides and currents. You'll learn that navigation is much more than moving from one waypoint to the next…and there's no final exam!
5PM Cruising the FL Keys – The Keys are the place to go where you can find clear water, tropical climate and an "island" attitude. Captain Chris can help you plot your course for these far away islands that are really just next door. It's an easy place for friends to visit without a passport.
Sunday
11AM Pets aboard- Don't leave your furry friend at home. Bring 'em along and keep everyone happy. Concerned about how to take him for a walk? Our own furry mate Bert will share tricks and tips to keep your four footed crew safe and sound, while Captains Chris & Alyse will present some of the finer points of traveling with your pet.
1PM Building Cruising Confidence – Be an asset to your captain. Captain Alyse Caldwell will show you the ropes. Do you know how to spring into action should you suddenly need to manage on your own? Learn what a good mate needs to know when the captain is at the helm…and how to keep it fun!
3PM Right Knot for the right job – This is a practical seminar with hands-on for those who want to really learn which knot is better for the job. Captain Chris will demonstrate a simple way to learn how to tie effective knots: cleat knot, bowline, clove hitch, square knot and becket bend (sheep shank).