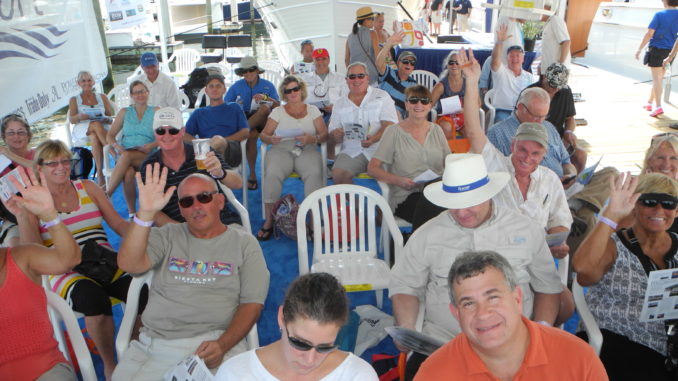 Captain Chris will be presenting salty seminars at the greatest boat show this November. Stay tuned for what topic and where to find us…we are sponsored by PassageMaker Magazine and CruiserPort.
Friday November 4, 2016
• 2:00pm Inflatable PFDs (Life Jackets) & Rescue Line Toss Demonstration, Sponsored by DAN Boater, Presented by Captain Chris Yacht Services Just because you wear an inflatable Personal Flotation Device (PFD) doesn't mean it's ready to inflate. Learn more about different types of inflatable PFDs and their care and maintenance. Step up and volunteer to pull the rip cord and see how it works. Take a few minutes to discover which works best for you. And learn how you can easily retrieve that "Man Overboard" with our LINE TOSS demonstration too. Ask Captain Chris all about boating safety!
• 4:00 PROVISIONING TIPS FROM THE PROS – Presented by Captain Chris Yacht Service Captains Chris & Alyse Caldwell share much more than your typical shopping list. These experienced cruisers will help you learn what you should bring along to prepare for your cruise away from home port. Consider everything from spare parts and tools to first aid and groceries and how to replenish these supplies while cruising. Then where do you store these items? We will explore what works in the real world of boating and what doesn't. You just might rethink the way you've always done it.
Saturday November 5, 2016
• 11:00am The Cost of Cruising – Presented by Captain Chris Yacht Services From deciding what style of boat will accomplish your goals to budget considerations, Captains Chris and Alyse Caldwell will guide you through this new adventure. These seasoned cruisers will share their personal experiences as owner/operators and offer you options in your cruising future that won't break the bank. Presented by Captains Chris & Alyse Caldwell, Captain Chris Yacht Services
• 1:00pm Cruising the Florida Keys – Sponsored by Technicold (presented by Captain Chris Yacht Service) The Keys are the place to go where you can find clear water, tropical climate and an "island" attitude. Captain Chris can help you plot your course for these far away islands that are really just next door. It's an easy place for friends to visit without a passport. Presented by Captains Chris & Alyse Caldwell, Captain Chris Yacht Services
• 3:00pm Bahamas Bound – sponsored by Northern Lights (Presented by Captain Chris Yacht Services) If cruising the Bahamas is on your bucket list then don't miss this wonderful presentation. From when to cross the Gulf Stream to how to provision, you'll learn the foundations to a safe and terrific trip of a lifetime. Come join Captains Alyse and Chris as we coach you on how to start this wonderful journey. Presented by Captains Chris & Alyse Caldwell, Captain Chris Yacht Services