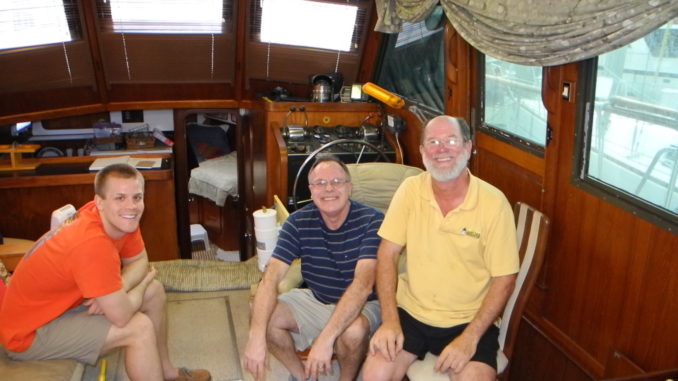 David & Michael are a father and son who often travel together on very exciting vacations. Coming aboard SANDY HOOK was another of those terrific adventures they had months in the planning.
(NOTE: We no longer charter our boat but are pleased to come aboard YOUR boat anywhere for personal training with you and your mate)
Three days gave this family team just enough time aboard to know they wanted more! Anchoring, picking up a mooring ball and becoming proficient in navigation were some of the skills they were able to practice with training from Captain Chris. Energy management and all the power requirements made more sense when the circuit panel was reviewed as well.
While swinging on the mooring ball a Selene 40 caught their eye. Captain Chris knew the owners from all the time we spend on the ICW, having met them over a year ago in Fort Pierce. We dinghied over and were invited to tour their boat, a very interesting opportunity to learn more about other types of trawlers.
After returning to our home port this father and son were hooked on cruising! Mom is coming along next time!!