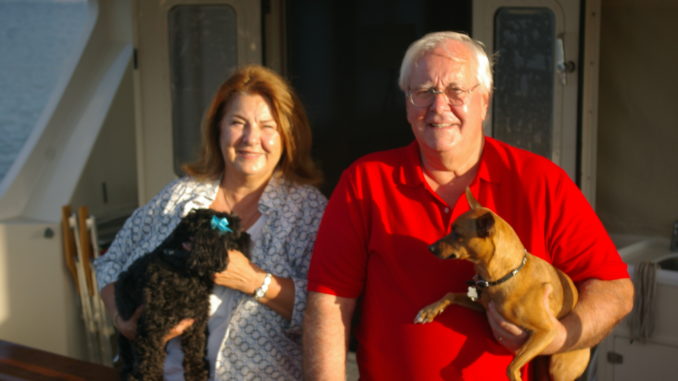 Here's a note from Kadey Krogen 58 owners, Sam and his wife Anne who take time from their business, Rockland Manufacturing, to cruise around the Chesapeake Bay in the summer months. They can also be found aboard their KK58 on the Treasure Coast of Florida during the winter and early spring. Traveling with the Pratts always includes their "girls" Patsy and Tina. Thanks for the good wishes!
Dear Chris and Alyse,
Here are a few comments about our experiences with Captain Chris Yacht Services. . .
Voyage #1. Ft. Pierce offshore to Hillsville, Maryland on 58′ Krogen, CLOVER. The only thing I can suggest about improving your services is when one catches a fish, he deserves the pleasure of cleaning it himself! We hardly expected to take aboard two captains that clean fish, cook, navigate, perform minor mechanical repairs when necessary, plus provide a list of suggested maintenance items. If we're talking a grade, you both get A++.
In addition, the fact that you both are competent, easy going, very pleasant, and share information willingly and generously without arrogance only improved our experience. We deeply appreciated your concern for our vessel as well as our safety.
Trip #2. Brunswick, Georgia offshore to Deal, Maryland. You delivered Clover promptly as promised without incident. The explanation of the few mechanical problems and your instructions on how to fix them were deeply appreciated. The fact that you can provide thoughtful mechanical advice really enhances the delivery process, and it's almost like a mini survey. We can't thank you enough for your commitment to the big picture, Happy Yachting, which is really much more than taking a boat from Point A to Point B. It doesn't make any difference whether it's Chris or Alyse at the wheel, the vessel is in good hands!
The only thing I can possibly complain about is that you didn't let me clean my fish because I like to clean my fish. I really appreciate the fact you taught me the plywood trick… and how to troll with three dollars worth of plastic pipe,… and how you immediately started fixing the water pump,… and how you brought along your scuba gear to check out the bow thruster before the trip to Deal,… and how you stopped by Brunswick just to check on Clover because we hadn't been there for three weeks,… and for teaching me about the Holy Trinity [ed. note: Holy Trinity from the New Orleans method of cooking- celery, onions and green pepper]. At my age, it was about time to learn how to cook well.
Needless to say, we cannot only recommend both of you for delivery Captains, we can recommend you for training, teaching, and plain old good company.
Sincere best wishes with your new venture. Both Anne and I hope it exceeds your expectations.
Cheers, Sam Pratt
From Chris & Alyse: Again, we say a big THANKS! to a great couple. Looking forward to our next voyage together. Maybe we'll let you clean your own fish next time.