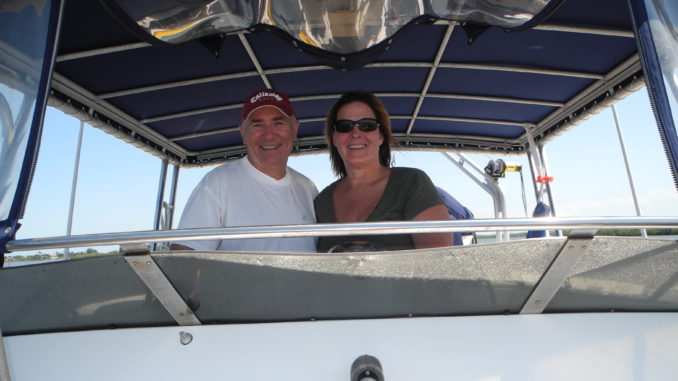 This couple plans to go from Detroit to Nashville via Florida. How do you do that? Simple, come visit Chris and Alyse aboard their 44 foot Training Trawler Sandy Hook in Florida before you buy your dream boat and we'll show you how.
(NOTE: We no longer charter our boat but are pleased to come aboard YOUR boat anywhere for personal training with you and your mate)
Just before their arrival Richard made an offer on that dream boat. Then after spending 5 days aboard with us they learned so many tricks and tips to take back with them for their trip from Detroit to Nashville, the boat's new home port. Richard and Terri wanted to be prepared for their inaugural trip so they spent every moment with us learning navigation, trip planning, RADAR, GPS, dinghy launch and recovery, anchoring and radio protocol. Their minds were open to every option so we not only shared our experiences but also offered blogs, AGLCA membership and other resources to help with their upcoming adventure. Every topic somehow found a way to relate to their trip from the Great Lakes down the river system to the Cumberland River near Nashville, TN.
Because they plan to board their 40 foot Hatteras Motor Cruiser in just a few weeks from our training together careful trip planning was key. We helped them map out the entire trip from Detroit to Chicago including procuring paper charts of the Great Lakes and River System- some of which are a real challenge to find and print out even with the help of experts like Ted Stehle of Skipper Bob. Paper charts are essential but are not enough to make the journey an enjoyable one. Cruising Guides are key and don't forget to ask for local knowledge when moving into a new area. The GPS Chartplotter with an up to date chip is nice but it is better to have that in the vessel position function and then preview the next channel or turn by studying the paper chart with advice from cruising guides. And throughout the trip two sets of eyes area better than one so it is great that they are doing this as a couple.

Another opportunity for Richard was to learn how to do owner operator maintenance. We toured the engine room looking at the raw water cooling system from intake to exhaust. Other systems reviewed and discussed for better understanding were air conditioner cooling system, generator system, inverter power source, oil changes, fuel filter inspections, traditional shaft seal adjustments and the rudder system with pressurized hydraulics, tie bar and 2 transmitters sending signals to the rudder angle indicator and auto pilot….whew!

While with us they joined the AGLCA America's Great Loop Cruising Association a terrific resource for any cruiser traveling any part of the Great Loop. So, look for their WHITE AGLCA Burgee flying proudly as they cruise south.

Safe travels and congratulations as you start Living the Dream!