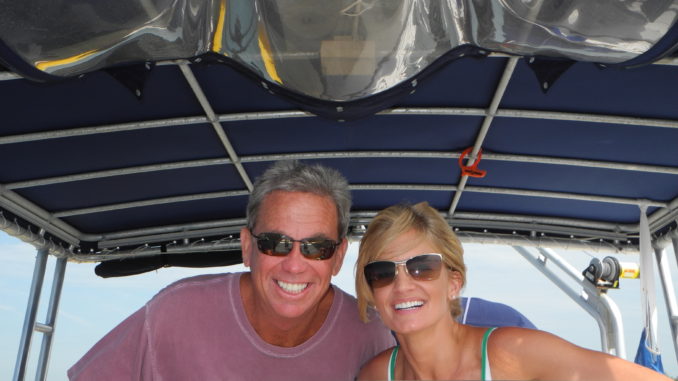 Myron and Kelly love to fish and have fun with their outboard T-top center console boat around Cape Lookout in the Beaufort Moorehead City area of the Carolinas. However, their day boat has become too small so they are eager to start cruising in comfort aboard a larger cruiser.
(NOTE: We no longer charter our boat but are pleased to come aboard YOUR boat anywhere for personal training with you and your mate)
This inquisitive couple joined us in Florida for some real world experience of living aboard while learning about the lifestyle of cruising on a larger boat. We explore below deck systems, engines, shaft seals, air conditioning designs and go cruising!
Since Myron and Kelly are former Marathon Runners, we anchor each evening near a dinghy landing so they can get in a morning run while exploring the coastal neighborhoods. After a few days aboard and during our trip planning sessions they have learned so much to help them plan for their next boat. Because they are not retired yet and have a few more years before schedules aren't an issue, they discovered that their cruising goals require a boat faster than a trawler. With a home port in Beaufort, a trawler can not make a seven day round trip vacation to either Norfolk or Charleston.
During our visit to a local boat yard we discuss hull forms and explain the difference between full displacement and semi planning (semi displacement?) hulls. This will prepare them for the boat shopping venture when they discuss realistic boat speeds and fuel economies.
Watch the waterways for the next Turtle Monkey as she cruises along (long story, you needed to be there). Check out some of their experience in the photos below, antique Falcons, Sunglass Display, old Florida homes and of course the local watering hole.