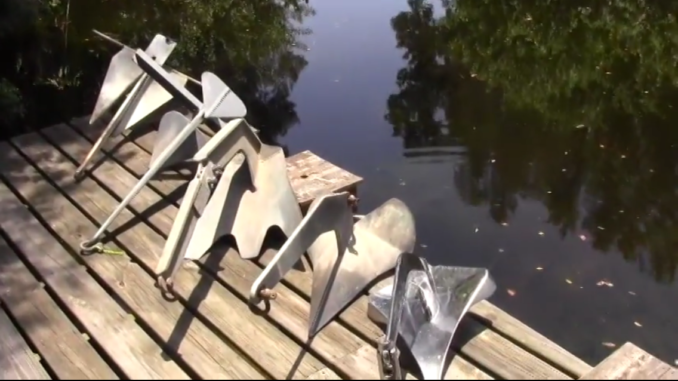 The Second of Four Anchoring Tips
In this second email of our Anchoring Tips series we want to open your eyes to the many different types of anchors. It is important to know your sea floor – mud, sand, rocks, grass – in order to select the correct anchor type which will provide the best holding power.
In the dock photo with 5 anchors we will start on the left:
Danforth – folding fluke, good for mud/sand light winds
Northill – folding shank, cumbersome
MAX – huge fluke, great for mud
Delta – convex plow with lead weighted point, great for sand in strong winds
Ultra – concave plow with lead weighted point, great for sand/mud in strong winds
We carried all these anchors aboard our cruising boats for 20+ years. The Ultra proved to be the best all around multi-purpose anchor as we found ourselves anchoring in different bottom conditions.
There are many other designs on the market which include lightweight aluminum alloy, roll-bar designs intended to roll the anchor right side up and another with a bubble to help float the right side up. Our preference is to have the biggest anchor that will fit in your anchor pulpit on the bow of the boat.
If you don't have room aboard your boat to store as many anchors as we did then consider having a multi purpose anchor like the Ultra. At least carry two different types of anchors to cover the bottom conditions where you plan to boat. Click on the photos on this page to learn more.
Our next email will discuss techniques when you Weigh Anchor.  After receiving all four Anchoring Tips if you'd like more details, consider our 90 minute Anchoring Video….or Ask Captain Chris!