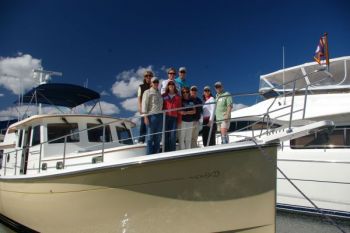 Come see the beautiful Northwest of Trawler Fest in Anacortes, WA this spring!
Captain Chris Yacht Services will be at all the upcoming TrawlerFests and more. Come meet us in our land display or aboard a training vessel as we present Building Cruising Confidence during TrawlerFest University May 13 & 14, 2014.
Attending your first TrawlerFest? This year May 15-17, 2014 we will present seminars in the classroom as well as afternoon dockside demonstrations. Registration just opened! Learn more here…
Here's a few seminar topics to whet your whistle:
All About Anchors Ever had your anchor drag or listened to anchor horror stories from your boating buddies? Captain Chris will have a hands-on demonstration to put your mind at ease. Learn about which anchors are right for the sea floor conditions and why. Different types of anchors, how much scope and when you may select chain vs. rope are some topics we'll explore. Just what IS a snubber and where can you find one? Join Captains Chris and Alyse for this interactive presentation and we promise you won't have to clean mud off the deck.aa
Cruising America's Great Loop -Learn more about the adventure of a lifetime. The Great Loop is a 7000 mile year long journey cruising around the waterways of eastern North America. Attend this seminar and receive a complimentary one year membership to the America's Great Loop Cruisers Association (AGLCA), courtesy of Captain Chris.  Discover everything about becoming a looper from a panel of experts including Curtis Stokes, Captains Chris & Alyse and GOLD LOOPERS Cathryn Rice & Bob White.
Pets aboard- Don't leave your furry friend at home. Bring 'em along and keep everyone happy. Concerned about how to take him for a walk? Our own furry mate Bert will share tricks and tips to keep your four footed crew safe and sound, while Captains Chris & Alyse will present some of the finer points of traveling with your pet.
Building Cruising Confidence at TrawlerFest University – This two day course is perfect for those who want to makes the most of their pleasure cruising. Learn what a good cruising team needs to know …and how to keep it fun!
Afternoon Demonstrations too! Try your hand at the Safety Line Toss, Learn about Immersion Suits and How to Anchor with ease from Captain Chris each afternoon.
So come visit us and learn about Trawler Life at this event,…aboard your boat anywhere!
Click here to link with PassageMaker Magazine and TrawlerFest information for upcoming events. Want to learn more about Building Cruising Confidence as a Couple? Read more
For more details about Captain Chris Yacht Services at Trawler Fest please go to www.trawlerfest.com .