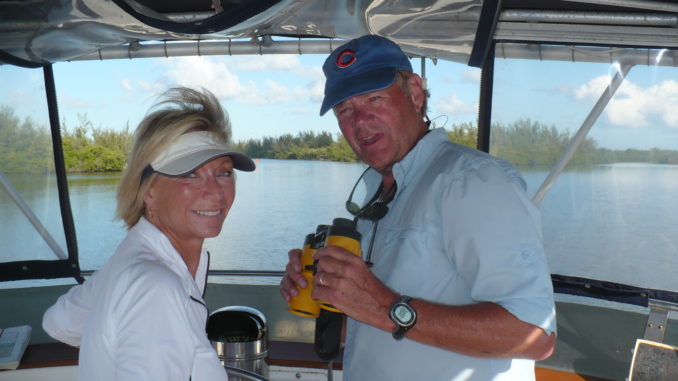 Thanksgiving is around the corner and we welcome a Colorado couple aboard for three days of Trawler Training. Warner and Judy are starting their search for the perfect boat. But before they make the commitment of a purchase, they want to learn – about trawlers, about navigating and about living aboard. Is cruising for them? Yes! Check out the photos and see if you agree.
(NOTE: We no longer charter our boat but are pleased to come aboard YOUR boat anywhere for personal training with you and your mate)
Three days later we return to the dock with a wish-list a nautical mile long. Now they know more about the features they want in their cruising trawler after Building Cruising Confidence as a Couple, living and learning aboard with us.
Next they will spend Thanksgiving with relatives nearby in Vero Beach… And the best part?… They can stop in at Vero Beach Municipal Marina for the Annual Cruisers Thanksgiving Pot Luck Lunch and share the cruising kinship.
Come cruise aboard Sandy Hook and start living the dream.
PS – Here is a great note from The Paige's after they returned to their home out west. Don't forget to scroll down and imagine yourself at the helm:
Dear Alyse and Chris,
What a stroke of luck to find you on the Internet.
Judy and I were both immediately comfortable with your calm, confident and friendly style. Amazingly, the boat that seemed so big and complex to us at first shrunk nicely and eventually became almost familiar. You can read books, attend classes and watch video, but there is no substitute for your skilled hands on training. It feels so wonderful to get such great value out of our $$$ and I can assure you, when it comes time to purchase our trawler, you will be the first people we call to help in the purchase as well as the training. Thanks for the information and friendship.
Judy and Warner, Telluride, CO
PS…
We are enjoying your [e-newsletters].