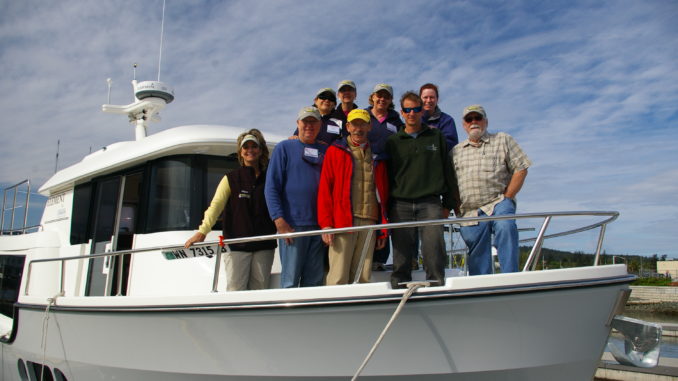 We are excited about offering "Building Cruising Confidence as a Couple" at the next Passagemaker University in Baltimore on September 22-23, 2010.
You can expect to learn a lot with Captains Chris & Alyse. Click here for a link to PassageMaker Magazine and comments from one of our PMU attendees.
This couples-oriented two-day seminar happens on the waterways of America! We offer tricks and tips on boat handling with an emphasis on team work. The husband and wife team of Captains Chris and Alyse Caldwell will teach you how to formulate a plan and effectively communicate together while cruising. Each couple is given the opportunity to be both the 'captain' and 'first mate" before switching roles. Training aboard includes:
Communicating, Vessel Systems Review, Docking, Anchor Techniques, Basic Maintenance, Navigation and Trip Planning. In addition to boat handling, these are all important experiences to master as a couple. Before starting the engines, we cover all lifestyle systems that make boating comfortable in a trawler. Staterooms, a modern galley and where to stow everything are some of the many features to learn about. The pilot house and flybridge allow us to review the essentials of navigation come rain or shine. RADAR and electronic GPS chart plotting is ongoing as we cruise the waterway. We take the mystery out of below deck systems. Docking is made easy both on fixed and floating docks. We share what works in the real world…and sometimes what doesn't.
Please scroll down for more details and photos of this fun two-day couples cruising class while we were in Anacortes WA.
Flying up a day early to check out the area, we gain some local knowledge and prepare for the 2 day hands-on trawler training. Our loaner trawler is offered by Fathom Yachts. Their single engine 40 foot Element Pilot House Trawler is a perfect looper boat with bow and stern thrusters. Neat! For more on the Fathom Element go to www.fathomyachts.com
Anacortes is near the San Juan Islands and the "Inside Passage", making this a cool spring cruising ground. We see snow on the mountain tops mixing with the deep blue skies and some menacing dark storm clouds in the distance. Keep in mind this is mid May. It's Spring time everywhere else!
Our guests arrive from what seems to be the 4 corners of the earth…well, Hawaii, California, Montana and Bermuda! They are excited to be aboard for this couples-oriented two-day course. Eager to learn some of our tricks and tips for good teamwork everyone shares their boating history and experience.
Next comes the full boat tour to take the mystery out of below deck systems and safety equipment. After checking fluids we cast off for a shakedown cruise to get the feel of the boat. As we pass through the marina's breakwater, the crystal clear water allows us to admire the incredible blue starfish clinging to the surrounding bulkheads. Once outside the narrow entrance channel we make a few turns port and starboard, practicing hard backdowns. We quickly discover the right amount of power needed to stop forward motion. Bow and stern thrusters move us in both directions to tighten our turns. Certain of the handling characteristics of this fast trawler, we are now ready to start our docking maneuvers.
Everyone gets a chance at the wheel- practice, practice, practice. Each couple is given the opportunity to be both the "captain" and "first mate" before switching roles. First, we enter the Port of Anacortes through the breakwater fence. Next, make a hard turn to starboard then to port with a very tight U-turn. OK, we are on a nice glide, all lined up to land on the T-head of C dock. "Are you ready Mate?"
Yes we had some fun, learned a few tricks with the wind and current and are able to handle the ever changing elements. Most dockings we land the boat like a pro. Sometimes we readjust and learn what doesn't work that well. Our informal "debriefing" at the day's end takes place up in the pilot house then we make our plans for the next morning.
Day 2 we are up early as the sun rises much sooner in the northern climes. Every good mariner checks the weather before leaving protected harbor and NOAA warns us of a late spring cold front approaching later in the day. Sustained winds of 30 knots and gusts reaching 60 are expected to arrive by lunchtime. Taking advantage of the literal calm before the storm, we shove off immediately, saving round table living aboard discussions for after the storm comes in when we're back safely tied to the pier.

Today we learn all about anchoring, approaching the anchorage, scouting the location, deploying the "hook", backing down and setting the anchor. After everyone gets their turn at the helm and performs the hand signals required at the foredeck we can see the clouds building in the distance. It's time to head in for a bit more docking practice in the slip, using all assets including the single engine backing to starboard and the two thrusters. Captains share the docking plan, anticipating the wind eddies that could effect steerage. Mates are at the ready in case no one is available to catch their lines. Fenders are down since this marina has floating docks to accommodate the almost 15 foot tidal change. What teamwork!
Naturally we keep an eye on the approaching front and finally decide it is time to put the boat to bed. We dock in our original slip but our assigned slip for Trawler Fest is two spaces away. One more opportunity to practice! We are snugged up with perfect timing as the front is almost here and winds are gusting to at least 35 knots. Uh-oh…Could we move just once more? Now we head out to a slip on the opposite side of the dock. This is just normal boat show excitement and we are still ahead of the front but Boy! Is this close! We secure the boat just as the front arrives. Thankfully the bow and stern thrusters give us a boost and before you know it we have lines secured and most of us managed to stay dry. After our two days of learning docking and maneuvering skills, we can now watch all the "pros" dock in the high winds from the warm toasty pilot house of the Fathom 40. Comments abound, "See how he uses the wind to coast sideways?" "Oops, they need to get a fender over to protect the boat next door." "The Midship line really helped to stop his forward momentum." "How nice to be warm and dry in our pilot house yet still see everything around us!"
The rainy front finally subsides allowing us to connect our shore power cable and shut down all systems. What a great time learning on the magnificent waters of the Pacific Northwest. But we're not quite finished… A celebration gala follows graduation in the Trawler Fest tent.
Congratulations to our four couples on a job well done!