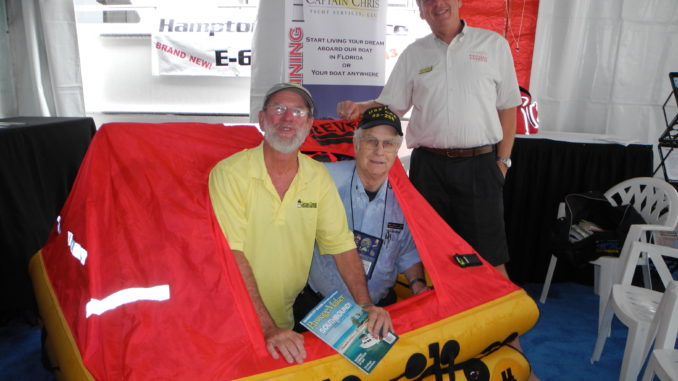 Did you set your clocks ahead so you don't miss out? It's less than one week from the Panama City Yacht & Boat Show! Hope we'll see you there at the FREE seminars including anchoring, cruising excitement and galley tips for those who would rather not be camping- regardless of the size of your boat….
As we write this we are swinging on a mooring ball in Stuart Florida, positioning ourselves to go through a few locks tomorrow. Never done a lock? We can help you learn by doing! Just schedule some time with us aboard our training trawler and start Living the Dream of a cruiser.
Since our last newsletter we've graduated a class at TrawlerFest University, taught a bazillion seminars, did 5 training trips aboard "your" boat – from a 49ft Grand Banks to a 53ft DeFever- and three training trips aboard our own 44 ft boat Sandy Hook….whew!!
Here's a link to

SOUTHWINDS

magazine where you can read all about

Anchoring from a High Bow Trawler

in our

Trawler Talk column

on line. This link to the magazine is pretty convenient if you can't find an old fashioned hard copy of the latest free magazine in your local southern boating store.

If you missed our February column, heeeeeeeere's more from Captain Chris! This article is on

Propulsion Designs

and you can read it

right here.

Don't forget to check up on the latest Cruising Blogs. These will surely motivate you on your journey to Living the Dream! A few of our clients keep amazing cruising blogs that should not be missed. You can have something in common with them too: They all had Captain Chris Yacht Services start them out on their journey. Link here
We keep getting emails from those who DID IT and want everyone to know how much fun they are having Living the Dream. Have a bucket list to check off? Always wanted to learn to drive a boat? Call Captain Chris to schedule your adventure. 772-205-1859
CAPTAINS' CALENDAR OF EVENTS:
March 15-17, 2013 Panama City Yacht and Boat Show – presenting many topics from Cruising the Bahamas to Pets Aboard and everything in between. Bert would love to meet you too!

March 22-24, 2013 TrawlerPort Palm Beach

more info

coming soon

but rest assured we will be there to talk trawlers with you.

April 4-7, 2013 Gulf Coast Yacht and Boat Show Click here for

more information and learn how you can join in the fun.

May 6-9, 2013 AGLCA America's Great Loop Cruisers' Association Spring Rendezvous in Norfolk

.

Click here

to register for this terrific gathering of cruisers as well as those who are dreaming to one day start this adventure. Don't worry if you don't have a boat yet. This is a great event to get started as you learn about looping.

May 14-15, 2013 TrawlerFest University Building Cruising Confidence As A Couple. Anacortes, WA. This class SOLD OUT once again. Why do we keep telling you about classes that sell out FAST? So you can call us and schedule your own private class aboard our training trawler in Florida…anytime! 772-205-1859

May 16-19, 2013 TrawlerFest-Anacortes WA.

Our first afternoon we will present

CRUISING TOGETHER: HOW WE DID IT:

From our first weekend adventures to living the dream aboard our boat SANDY HOOK, your eyes will be opened as we share our experiences cruising together— and we still like each other! Later that afternoon we'll demonstrate a

SAFETY LINE TOSS

then let you give it a try! Then get up early on Friday for an encore performance of

CONFESSIONS OF A GALLEY SLAVE –

Captain Alyse makes your time in the galley another fun adventure. You might even score breakfast! Pick up some ideas we learned from living aboard and cruising for over 15 years on our 44 foot trawler. In the afternoon we'll present a Man Overboard Recovery and demonstrate the use of essential equipment for offshore cruising. Our final 90 minute TrawlerFest presentation on Saturday is

DINGHY DYNAMICS

when we will open your eyes to different options for types, size and storage of your dinghy. In between walking the docks and boarding beautiful new and seasoned trawlers come to our booth for some FREE tricks and tips from Captain Chris. Register for these and other terrific topics

right here.
Want to get away to warm, sunny Florida this season? Don't miss out!! We are filling our calendar fast. Make your reservations now aboard SANDY HOOK – our 44 foot training trawler while we still have your dates available. If your calendar doesn't work for any of our scheduled events just create your own private cruise aboard SANDY HOOK anytime. We have sunshine not SNOW in the winter and for summer there is always a cool ocean breeze! Email or call us 772-205-1859 and start living the dream. But don't hesitate or you'll miss the boat! Now booking for July through December 2013.
Check out our Facebook page or YouTube Channel for what's happening in the trawler world.