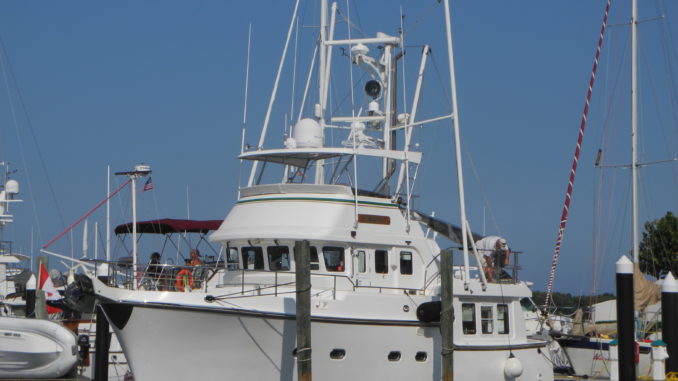 Trawler Training
This Nordhavn 47 is the perfect dream boat for cruising the East Coast, Bahamas and Caribbean…even crossing the Atlantic! Lots of Photos and even a video of this dream boat can let you dream along with the new owners…
Mike and Mari just purchased their Nordhavn 47 and asked Captain Chris to work with them. In addition to learning all about the equipment needed to run this system intensive vessel, they also became more comfortable in operating this single engine full displacement trawler with the help of an experienced training captain.
Starting in North Palm Beach we spend the first day reviewing all the below deck systems including the get-home engine, generator, active fin stabilizers and the fuel distribution manifold. You don't need to be a mechanic to understand the function and operation of this specialty equipment. Captain Chris makes it all make sense.
This long distance Passagemaker has two saddle tanks, a dedicated get-home fuel tank and a "day tank." Depending on how long your day is or how fast you operate the main engine the day tank might last all day, allowing time for refilling at the end of your travel day. Fuel can be transferred depending on supply needs or to be used as ballast in heavy seas.
Above decks we work with the passive stabilizers also known as Birds, Fish or properly termed Paravanes. These are the delta-shaped, steel downriggers seen on shrimp boats and on boats seen during the movie Perfect Storm. Be sure to scroll down this page -first to the video then to see the many photos including the Paravanes.
Single engine boats have a personality, often walking right in reverse. Instead of seeing this as a problem personality, we practiced docking using this walk-right-in-reverse trait as an advantage to reduce dependency on the electric thrusters. After a day of practice docking and anchoring in the Palm Beach/Lake Worth area we pointed our bow north.
In the days ahead we experienced bottom suction, cross currents due to tidal influence and shallow sand bars. All part of your hands-on education, we prepare you for the real world of a cruiser. After a few days aboard I stepped off in Melbourne and watched Mike and Mari cruise towards Oriental, NC.
Watch the Chesapeake this summer and you may spot this majestic Nordhavn gunk holing in a cove or possibly at Trawler Fest this September.
If you would like me to help you transition into your new dream boat…..just Ask Captain Chris!
Consider one of our garage workshops in Vero Beach FL to learn more about many systems that make boating more fun! Click here for the what-when-where….or call Captain Chris 772-205-1859.