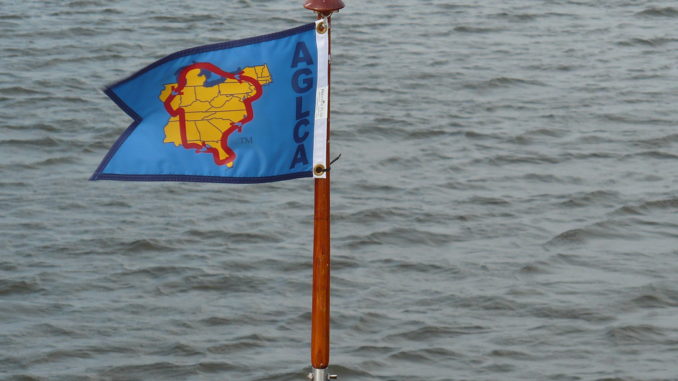 America's Great Loop Cruisers' Association – Trawler Training
Join us in Norfolk VA for the next LOOPER rendezvous this spring. Don't know what a LOOPER is? A boater cruising up the east coast through the Great Lakes, down the Mississippi River, into the Tennessee and Tombigbee Waterways, across the Gulf of Mexico and through Florida's west coast back to their starting point is a Looper. Contact Captain Chris Yacht Services 772-205-1859 and we'll tell you all about it!
Captains Chris and Alyse are pleased to attend both the Fall and Spring AGLCA rendezvous.  The Spring event is held in Norfolk VA right on the Intracoastal Waterway and the Fall event takes place at Joe Wheeler State Park in Alabama. We meet so many new friends at each rendezvous! If you missed this wonderful cruising event in the past don't miss this next great week long social on the waterfront.
Here's some of what's happening at this spring event:
• Provisioning for the Long Haul Captains Alyse & Chris share much more than your typical shopping list. Learn what you should bring along to prepare for months away from home base. Consider everything from spare parts and tools to first-aid. Then where do you store these items? You just might rethink the way you've always done it.
• Navigation The skill of navigation is essential when traveling safely throughout the Great Loop- Ocean, coastal and inland waterways. Captains Chris & Alyse Caldwell will share the latest in navigation resources including paper charts, electronic chart plotters and internet web sites that can help you plan your cruise. Learn about whistle signals, lights and other navigational assets while you discover how to interpret Racons, range makers, tides & currents. Navigation is much more than moving from one way point to the next.
BONUS! When you spend time with us at a seminar or aboard your boat we'll provide a year membership FREE, compliments of Captain Chris Yacht Services.
Click here for a great story about Loopers who asked us to join them as they started their fantastic journey in St. Petersburg. This couple purchased a 47 DeFever and allowed us to share our experiences to get them safely on their way. If you know someone who needs a bit more coaching to boost their boating confidence please contact us at chris@captainchrisyachtservices.com
Want more information about the American Great Loop Cruisers' Association (AGLCA)? Here's their web site: www.greatloop.org