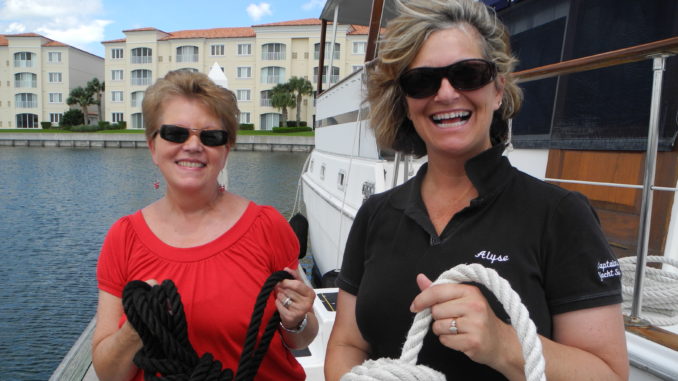 Ladies On The Loop
Ladies On The Loop is a FREE 240-page PDF book orchestrated and edited by Gold Looper Susan Costa. Susan describes it as "35 chapters offering guidance, humor, and reflection from women who have traveled America's Great Loop Waterways."
I say it's a peek inside the minds of those women who are out there looping, having the adventure of a lifetime. Susan's effort is letting us have a taste of what the loop might have in store for you. What? You don't know what the Great Loop or a Looper is? Then click right here and begin at the beginning to discover what looping is about. But don't forget to come back and learn about the Ladies On The Loop FREE book. We'll wait right here….

….Welcome back and enjoy! And, now that you know what a Looper is…what's the story these Ladies want to share? Each chapter is as varied as the sunrises we enjoy each morning from our cockpit or flybridge. We each wrote about what we know and about things that might help others following in our wake.
Alyse's Perspective
Invited to write a chapter, I first thought of the obvious topics- Learning to drive the boat, anchoring overnight and other things that weren't second nature starting out on this boating adventure.  Instead, I decided to share the concerns I hear from many of our clients- How do we handle the holidays while on the boat, far from home? But when you are living on your boat you are home. It's all in one's perspective.
Who are the Ladies of the Loop?
According to our fearless editor, these Ladies "are Captains, First Mates, Admirals, Wives, Partners, Cooks and at times even hired Crew. Share the journey with these 35 incredible ladies as they offer their stories and advice; how they started the Loop, overcoming sickness and fears, concerns about leaving family behind, finding wonderful joy along the journey, personal growth, and of course the friendships they made."
No, we don't all have a maritime background. Some of these ladies have never been aboard a boat before starting this journey. All have gained experiences that will last a lifetime. Most have found a nifty thing or two about themselves that they didn't know they had in them.
How to get your copy
It's FREE. A cruiser's favorite four letter F word! You can download it here Ladies on the Loop Book 2020 or just click below on ISSUU.com and flip through it like a real page turner!
Reviews from the Critics
Imagine my surprise when I saw this article about Ladies On The Loop on the Great Harbour Trawler's website. For a review of our mini masterpiece click here to read what the former editor of Passagemaker Magazine thinks of it.
Ask Captain Chris
Don't just read about what happens on the loop, start your own adventure. Let us help you get started as your cruising coach. We will share our experiences and ideas through one on one coaching, videos,  seminars,  PDFs and of course, hands-on training aboard your perfect boat. Ask Captain Chris 772-205-1859