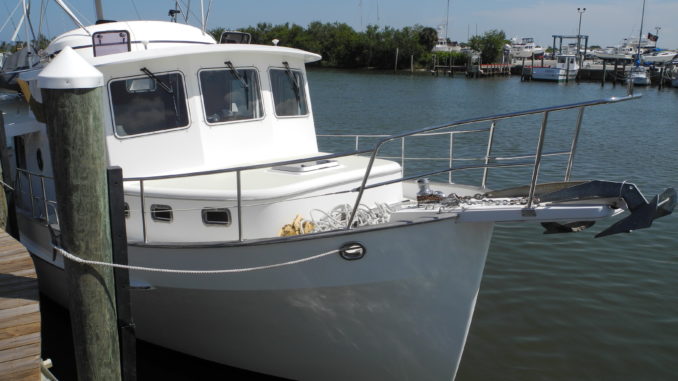 Kirk purchased a Kadey Krogen 39 Trawler in Stuart, FL back in mid February. I spent a day with this new owner,crawling all over and through the boat to learn the systems and make a spare parts list for our eventual cruise north. Spare fuel filters and raw water impellers along with some galley items were purchased and loaded aboard. We were ready. Monday morning April 2nd (no fooling) I board the boat with Kirk and his son Christian to start our cruise north. Don't forget to scroll through the photos below after you read about this terrific training delivery…
Casting off from Loggerhead Marina in Stuart we navigate east in the Okeechobee Waterway past Manatee Pocket and The Crossroads into the ICW at St M 987. Steering North into the ICW we start the 800 mile trip to their new home port. I say 800 miles, that is IF we stay in the ICW the entire trip. Weather is looking good so we plan to head to sea when we reach Ponce de Leon Inlet near New Smyrna Beach south of Daytona. Are you asking why we did not head straight to sea? Simple: this is a new boat to us and we want the boat to prove itself before we commit to the Big Blue. What can happen? I don't know but we agreed that 2 days in the ICW should be enough time for any preventable surprises to show themselves.

During our first day we stopped to refuel in Fort Pierce at Harbortown Marina, an excellent deep water, easy access fuel dock. We filled the tanks so we would be heavy while running in the ocean. Even though this boat has active fin stabilizers to reduce roll in the ocean swells it helps to be as heavy as possible. We dropped the hook north of Vero Beach just off the ICW –Statute Mile (ST M) 946 at Hole in the Wall anchorage. Check Skipper Bob's Anchor Guide to learn more about this location sometimes known as Pine Island. The charts show the water is much shallower than reality. We ran our figure 8 bottom contour preview before anchoring in 8 feet of water, plenty for this 4.5 draft full keel trawler. We had to stop here because we could not make the next anchorage before dark so the crew took advantage of the secluded area to have some fun and go swimming. Somehow that wasn't fun enough so up they climb onto the flybridge, jump into the water for more fun…again and again. Maybe in my younger days but now it's time to get down to cook dinner and hit the sack. Did you expect 3 guys to eat SPAM or sandwiches? No indeed. Atlantic salmon, shaved onions and sliced apples steamed in orange juice. Simple one dish dinner, for the guys, by the guys.

Five AM the alarm wakes us to darkness. Check fluids, weigh anchor and head north before daybreak. The moon is about 3/4 full but it set at 3 AM so we depend on our GPS Chartplotter, RADAR, Spotlight and good ole Dead Reckoning. First light is much later and we are 10 miles up the ICW before we can see with our bare eyes. As we cruise along we check the internet for the ocean forecast trying to determine our float plan for the next 24-48 hours. What we read from the forecast makes us believe we can head out to sea at Ponce de Leon Inlet this evening. Alyse is back in Vero Beach for the duration of this trip so she is our float plan contact and we keep her informed of our decisions. Now we start alternating watches so we can sleep in preparation for a long night offshore. A late lunch of Pork Loin fits the bill- sliced in half to help it cook better on the stove top in a covered skillet. Onions and red, green and yellow peppers season it nicely making a yummy bed under the pork.

ICW New Smyrna Beach, FL St M 844. As we wait for the Coronado Bridge to open at 7 PM we do our final engine room checks. Fuel level port and starboard, visual inspections for oil or hydraulic leaks, and we even use our nose to verify all is well in the holy place. The bridge finally opens allowing us through toward the Ponce de Leon Inlet. We clear the jetties and enter the ocean just before sunset. Seas are calm as we point northward, layout a GPS course, set the autopilot and start dinner. Yes, meals are something to look forward to on a long journey when everything else is going according to plan….does that often happen on a shakedown cruise? Hmmm. Let's not put the jinx on it.

Twelve hours later we cross the St Johns River Entrance about 10 miles east of Jacksonville, FL. Because everything still looks promising we adjust our course line head for Savannah, GA sea buoy. We decide to stay close to shore and not taking advantage of running in the Gulfstream. Our thoughts are to plot a course nearer to shore in case the bad weather in middle America arrives sooner than expected. Twenty tornadoes have been documented in the past 24 hours in an easterly moving storm. We'd like to be tucked into safe harbor before that storm line reaches the eastern seaboard. After all we are in a 39 foot boat. Although a very seaworthy, stabilized, full-displacement trawler, it is still only 39 feet long. If we end up with 10 foot seas you can see they would be 25% as tall as we are long. Uncomfortable may be a word to consider.

Hours and hours pass and we cross the Savannah River and adjust course for Charleston. As we cruise near the coast we constantly search for a cell signal to download a marine weather map to compare to the NOAA VHF Radio forecast. Brief cell phone calls are possible and luckily Alyse doesn't mind the 3AM check-ins. In fact, she concurs that our weather window is shrinking and we might have one more day before that strong system reaches us. We continue onward in the ocean taking shifts to watch for ships. We set our heading for Winyah Bay near Georgetown, SC, our closest inlet to come back into the safety of the ICW. We can feel the weather changing and as we approach the sea buoy things get interesting: winds in the 30 knot range and of course RAIN. We take advantage of running the range markers to keep us in the channel with the side winds blowing close to the jetty rocks. We do all this in the comfort of the heated pilot house. YEAH!

Cruising up the ICW we pass through Myrtle Beach and the famous Rock Pile. In the Cape Fear River we are glad to follow more range markers to keep us on course. Here we experience the Red Right Returning rule with ICW Yellow Square Decals on the Nun buoys. Confused? How about Red on your right when returning to Texas? These are some of the navigation basics we can help you sort out but for now we press on through Snows Cut, Carolina Beach, Wrightsville Beach, Morehead City, Adams Creek and finally the Nasty Neuse River. Sometimes it is the Nice Neuse but not today. Fortunately this Kadey Krogen can handle everything the Neuse can offer. Cruising up the river we arrive in New Bern, NC the birthplace of Pepsi Cola and the new home port for this Kadey Krogen 39. Wonder what's for dinner?