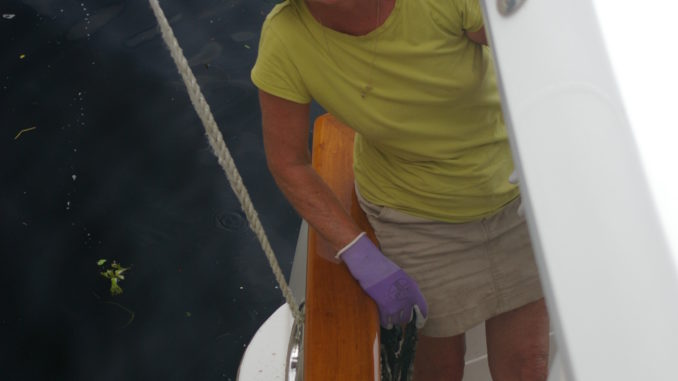 Communication while docking is essential. Many of our clients ask about using headsets or Marriage Savers as they've earned this nickname.
Dear Captain Chris,
I recall your recommendation for the use of 2-way radio headsets to improve communications between the helm and the line handler during anchoring, docking and locking. Where did you purchase yours, and/or do you have a recommended source?
We will be bringing our new (to us) boat from Pickwick to Nashville which will involve two lock-throughs, and five or six dockings at
unfamiliar marinas. We want it to be a fun experience for all, including volunteer crew members.
It was good seeing you again at Joe Wheeler; we especially enjoyed your tips on cruising to the Bahamas.
Captain Chris answers:
Hello from sunny Florida! Thanks for your note….Have a blast as you set out on your adventures!
While we recommend that you consider headsets to enhance communications, we do not use them ourselves. Too many variables can occur as we are on many different boats so we just don't rely on them. That said, many loopers swear by them and I believe you will get a really good cross reference if you ask on the forum. If you are unfamiliar with the forum here is information on how to become a member of AGLCA (America's Great Loop Cruisers' Association).
Technologies are improving in leaps and bounds so keep your eye out anytime you see a boater using headsets. Ask about the pros and cons of their selection too.
In the meantime, consider honing your communication skills in the event your new headsets fail due to weak batteries or some other unforeseen glitch. This link will take you to a docking article we wrote that includes how you can effectively communicate without the headsets and published in Marina Life.
Another great resource is found in the Waterway Guide Magazine's article called Boat Whisperers, written by yours truly. Here's a free link to the magazine issue where the onboard communications topic is explored on pages 21-23.
Good luck and please let us know if we can help in any other manner. Safe travels!
See you on the water…
Chris & Alyse Caldwell
772-205-1859