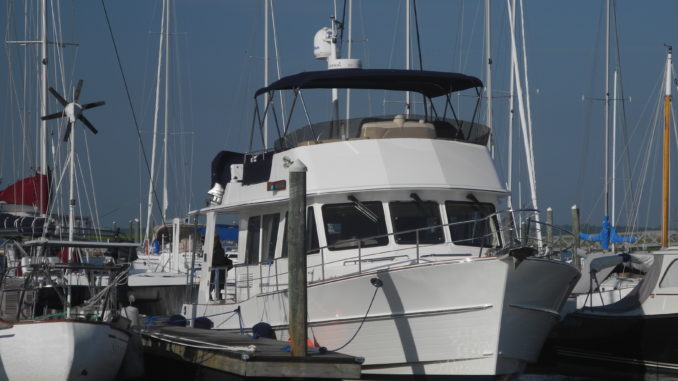 Learning about your boat and how it handles is essential. When you boat in an extreme tidal location such as coastal Georgia you learn so much more than the basics. Ever heard "time and tide wait for no man"?
New owners of a Zeus pod drive Grand Banks EU41 first met us at TrawlerFest. Then came to seminars with us again at the Palm Beach Boat Show. After they purchased their new boat they invited us aboard for some training together in Brunswick GA, one of the largest tidal range areas south of New England.
Sometimes in tidal areas you just have to wait for the slack tide no matter how much you learn about your boat. Your alternative could be trying to dock in a 3 to 4 knot current where things can quickly go awry. So it is best to know your boat AND know your local tides and currents before planning your adventure. Fortunately this part of Georgia had been their home for a while so they easily understood the role a rushing tide can play when trying to maneuver in the close quarters of a marina. We were there to help with the teamwork topics.
Working together as a team makes most tasks more efficient. When a boat crew works together then the team spirit turns work into fun! This is pleasure boating after all. So when this couple sent us a list of topics they wanted to master together we knew they had the right idea.
Line handling was a hot topic and we covered a wide variety of scenarios including how to store the lines, tying up to fixed and floating docks, what to do when no cleat is available, the order of lines to secure and remove when docking and departing without marina staff and of course, the basic cleat knot.
Next time you walk down a marina dock take a look at how many different cleat knot variations you'll see. In truth there is only one correct way to tie a cleat knot. The rest are all "if you can't tie a knot then tie a lot." It's a very simple knot that looks like two rivers running parallel under one bridge.
Fender placement and how to easily secure them was another important discussion. Even though you may be able to confidently tie a clove hitch, this can be an unexpected "hurry up" event when your slip assignment changes at the last moment. so we suggest not only mastery of the clove hitch knot but also to consider fender hangers that make relocation simple, quick and easy for your mate.
On our first day aboard we had a training schedule planned which included a unique interruption with the eclipse event mid-afternoon. While it was a good day for boating, the clouds were plentiful so unfortunately our view was partially obscured by clouds. But this was a very cool way to take a break from navigation lessons!
Next we went below decks for a quick review to be sure all was A-OK. This engine room is quite spacious and has been well maintained. Please check out the photos below so you can get a peek too.
When we did get out onto the water leaving the dock was coordinated around the tide schedule. It's significant to note that while you should consult the tide charts you should NOT depend on them alone. Watching the current flow near and around your slip is equally important. Sometimes the slack water is not exactly when you expect so pay attention and have a bit of patience before you start the engines and untie your lines in a moving tidal area.
Then we utilized a buoy to practice touch-n-goes and close quarter maneuvering until both helmsman and mate were equally comfortable with getting the boat where they wanted it to go. We used the joy stick and the traditional shifters to drive the boat, sometimes without even using the sterring wheel. All it takes is practice!
It's equally important to have fun while you are learning so we took a short cruise out into St Simons Sound and up the Brunswick River using our navigation and helm skills to find and run the ranges in the area. Even the USCG did a fly-by allowing us to monitor them first with binoculars then as they quickly overtook us on our port side.
Then it was time to get back to the marina for some more practice docking at the floating fuel dock. Learning how your boat handles wind, weather and current is key and a face dock, tee-head, fuel dock or double wide open slip can make the first few attempts a bit less scary. But it's always good to be prepared with a walking fender for the just-in-case moments. That's a fender that isn't attached and can quickly be walked where you may have an imminent unplanned meeting.
Next was anchoring with a focus on what to do if the windlass didn't work as expected. A few times lowering the hook, setting it and retrieving and we were ready for a break. So we had lunch at anchor during the fastest part of the tide cycle and when things slowed down a bit we headed in.
After a few days together we had covered their topic list and a few extras for good measure. Just Ask Captain Chris to come aboard with you and he'll teach you all about team work…so the work is much more like fun!