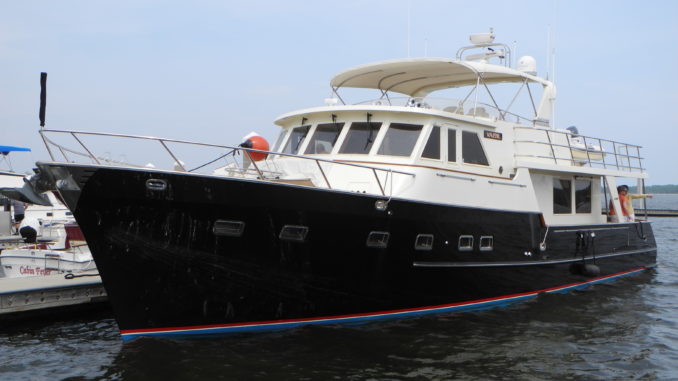 What a Dreamboat! This blue hull beauty is a magnificent Grand Alaskan 65 in Orange Beach, AL. Owners Beau and Val asked us to help them transition into this great live aboard cruising boat with twin diesels and a bow thruster.
Walking own the docks we notice how small the marina is relative to how large this boat is. While the 65 foot boat does fit into the slip, the fairway in front of the boat is narrow, painstakingly so when the band is playing at the restaurant across the fairway. We must schedule our departure before the lunch bunch arrives at the restaurant dock and reduces the maneuvering space we have. Bow thrusters are great but we teach not to rely on them. Debris in the water or low voltage batteries may compromise the effectiveness of the thruster.
Away we go! As we cruise east towards Pensacola we have to zig-zag through the aids to navigation, careful to stay in the deeper part of the ICW. Motoring at slow speeds we meander from the Perdido River and on to Pensacola for anchoring practice.
We enjoy a night at anchor under the flight path of the Pensacola Naval Air Station watching the jet fighters fly their training missions. The rising sun revealed thousands of boaters who come out for a day on the beach. We could launch our dinghy to join them but decide a weekday may be more enjoyable with less crowds.
Time to return to homeport and the challenges of the band, party boats in the fairway…but wait a minute! Beau smartly arranged for another slip at Barbers Marina. We first dock at the pumpout, then discover reasonable fuel prices so another docking attempt allows for a bit more practice. The fairway is very wide providing welcome elbow room for this large boat. And the bonus is that there is no bar or band to add noise and congestion to the art of docking.
Val & Beau were delighted with their relocation to Barbers Marina for the ease of docking and convenience of peaceful sleeping. No more LOUD band and parking for their cars is a snap too. All this to say that there is something for every boater and Captain Chris can help you make the transition while honing your skills and building your cruising confidence. But first, you must ask yourself what works for you…remember, this is pleasure boating!
Scroll down and click on each photo to see below and above decks of this incredible cruiser. If you have any questions, Ask Captain Chris!