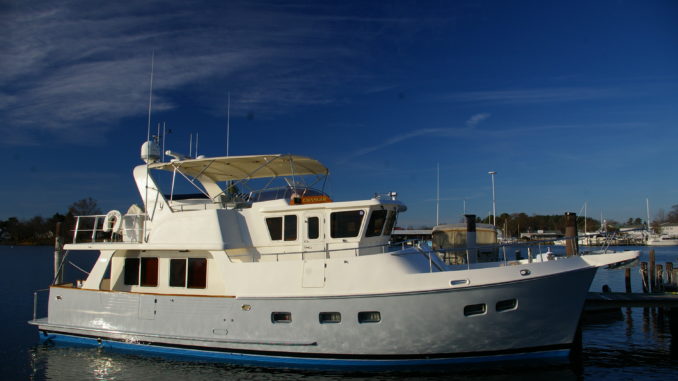 Sometimes as a boat owner, you don't have the time to relocate your boat to the warmer southern climate. Captain Chris has a solution and the owners of this gorgeous Selene trawler now have their boat in Florida, ready when they are!
You want to make the trip south with your new boat. You dream of making the trip and maybe have even cruised it a few times already but this time life gets in the way. For some it's business that calls, for other owners a new grandchild or daughter's wedding…regardless of the why, Captain Chris will deliver your boat to her final destination and have her ready at the dock whenever you are.
This Selene left the chilly Chesapeake Bay in December, ice on the deck many mornings. Brrrrrrr! Her final destination is Fort Pierce on the Treasure Coast where owners, Doug and Michelle will meet her early in January after the holidays.
Plans were to make a few over night runs off shore in the Atlantic but plans often change with winter weather fronts. The smart and safe choice for Captain Chris and his crew is to take the inside route and enjoy the protection offered by the Intracoastal Waterway (ICW). Definately a longer delivery but a decision that this crew would be proud of at the end of their trip.
Yes, tides and currents can be a challenge for a deep draft, slow moving trawler and the shallow water often found in the ICW makes an ocean run more inviting. Wind and fog created additional delays making short days through the Carolinas. But, safety is always the first consideration for Captain Chris, whether we are on your boat or ours. Safety first!
Another boat made the decision to jump out into the ocean, rather than deal with the delays found when traveling the inside route. Read this short account from the St. Augustine Record and maybe you will understand why we sometimes choose the inside slower route when we are on a delivery. The inlet at St. Augustine is not a commercial inlet and is often rough from shifting shoals. Add fog and a northern front and we'll take the inside route every time.
Of course, Captain Chris keeps in touch with you throughout your delivery when you are not aboard. As long as we have cell service we'll keep you apprised of how the delivery is progressing. This owner was well aware of our decision to cruise the ICW and supported our choice….even with a 6 foot draft! Attention to tides is always essential but a full keel helps to protect the rudder and propeller.
These photos below capture some of the delivery experience. Maybe next time we'll be aboard with YOU as you bring your boat south for the first time! Give Captain Chris a call- 772-205-1859