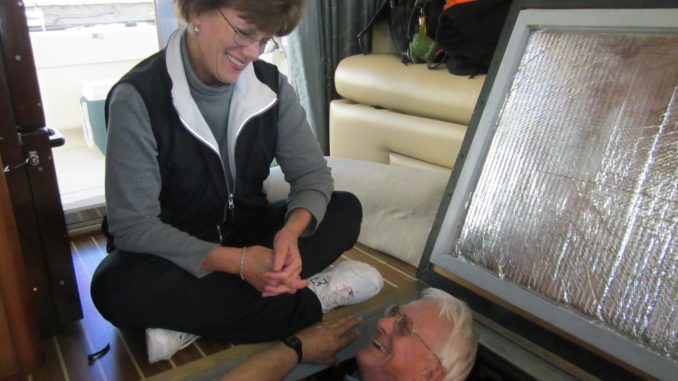 We met John and Barbara at another AGLCA America's Great Loop Cruisers' Association Rendezvous in Rogersville, AL. They were preparing to LOOP and buying the perfect boat was early on their mind. After purchasing their boat they kept to their plan and gave us a call. We were asked to spend a few days helping them transition into their new, larger boat. Their boating experiences included outboard trailerable boats, nothing as big as this 40 foot single diesel engine cruiser with a bow thruster.
Boarding the boat in Panama City, FL we started a below decks tour of the boat to discover where everything was located. After an inventory of systems, spare parts and fluid checks we headed for a local boat store to get what was needed to be safe while underway. Because we spent valuable time reviewing the functions and importance of below deck systems, we identified some hoses that would need replacing before this couple started out on their trip back to Texas. Before we got too far from civilization we were able to obtain the proper sized hoses and planned to spend the early afternoon replacing at least one of the before we even left the dock for a short run. With only two days scheduled for training we were all eager to hear the engines roar but safety always comes first.
Satisfied we were now in compliance with the Federal Regulations and with new fittings securely fastened we were ready to go. Casting off from the marina near the Hwy 98 Hathaway Bridge we started our first docking maneuvers at the fuel dock. After a few scenarios, bow in, stern in and coming in to a face dock we were mindful of the sun low in the sky. It was time we headed east for the evening.
Because of the unplanned repairs we got off to a late start from the dock. Remember, schedules can be dangerous but fortunately we are quite familiar with this area. Verifying our planned anchorage site with Skipper Bob's Anchor Guide we navigated toward the entrance to Massalina Bayou with expectations to arrive at dusk. Taking advantage of the hour and impending sunset we worked with the radar first interpreting images in the radar screen then looking at the GPS Chartplotter to learn exactly what the BLIP was. Binoculars and night vision were helpful to verify what we saw on RADAR too.
Darkness comes quickly in the winter months and we used this opportunity to review just why you want to anchor well before dusk. Most of us have decreased depth perception at night and things rarely appear as they actually are. Reading the running lights of vessels entering the ICW from sea and passing near us proved how important it is to understand the Rules of the Road. Commercial fishing boats and tugs with barges were noted because of their running lights position and colors.
Set with our anchorage for the night we do some trip planning and check out a few more below deck systems. The generator purrs, keeping us toasty during an otherwise c-c-cold night on the hook. No time for TV as we have so much to cover in such a short time aboard. After a hearty breakfast we review navigation to return to port before pulling up anchor. We squeeze in two more anchor drills until this couple is comfortable with hand signals, required scope and all the other nuances of setting the hook. The weather is typical for early January in the Florida panhandle so we run-through docking a few more times in a stiff wind. This was excellent practice for John and Barbara prior to beginning their trip home to Port Aransas, TX before starting the LOOP next year.
Tomorrow comes too soon and before you know it we are back at the dock and running through last minute check lists. John & Barbara introduce us to a seasoned cruising friend of theirs who will accompany them part of the way back home through the Mississippi River Locks before they set out on their own. It's nice the way cruiser's help out other cruisers…have a safe journey!