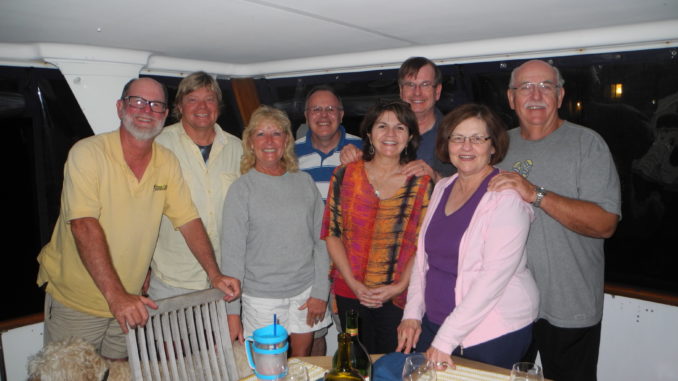 This Georgia couple have plans that include looping aboard something other than a sailboat. They needed to know if a trawler was for them. So Sherry and Alan joined us for 5 days of training to see if locks, looping and living aboard was in their future.
(NOTE: We no longer charter our boat but are pleased to come aboard YOUR boat anywhere for personal training with you and your mate)
Before we headed out we were able to introduce these fledglings to some key cruising couples: First there were very recent Gold loopers aboard a North Pacific trawler, then two very NEW loopers starting out on their Jefferson 42, a Nordhavn 47 owner planning for some coastal and down island adventures and of course, we have lived aboard for over 15 years. So together we had an interesting dessert party on our aft deck which allowed Alan and Sherry to ask a million and one questions.
Next we set out to get in some hands-on skills practice before we tackled the locks of the Okeechobee Waterway. So much to learn but all in good time.
When we finally returned to our home dock with all the new skills they had learned, Alan and Sherry were sure of one thing: Locks, Looping and Living the Dream are CERTAINLY in their future!