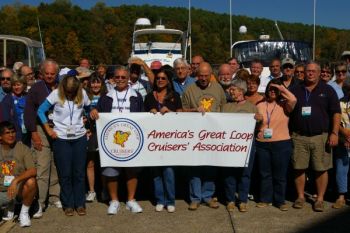 Join us in Rogersville AL for the next LOOPER rendezvous this fall. Don't know what a LOOPER is? Contact Captain Chris Yacht Services 772-205-1859 and we'll tell you all about it!
Captains Chris and Alyse are pleased to attend both the Fall and Spring AGLCA rendezvous.  The Spring is held in Norfolk VA right on the Intracoastal Waterway and the Fall event takes place at Joe Wheeler State Park in Alabama. We meet so many new friends at each rendezvous! If you missed this wonderful cruising event in the past don't miss this next great week long social on the waterfront.
BONUS! When you spend time with us at our 2-day seminar or aboard your boat we'll provide a year membership FREE, compliments of Captain Chris Yacht Services.
Click here for another great story about Loopers who asked us to join them as they started their fantastic journey in St. Petersburg FL. This couple purchased a 47 DeFever and allowed us to share our experiences to get them safely on their way.
How about a few more? Go to FAVORITE LINKS on the left side of our website and see other blogs from more of our clients who are living the dream.
If you know someone who needs a bit more coaching to boost their boating confidence please contact us at chris@captainchrisyachtservices.com
Want more information about the American Great Loop Cruisers' Association (AGLCA)? Here's their web site: www.greatloop.org