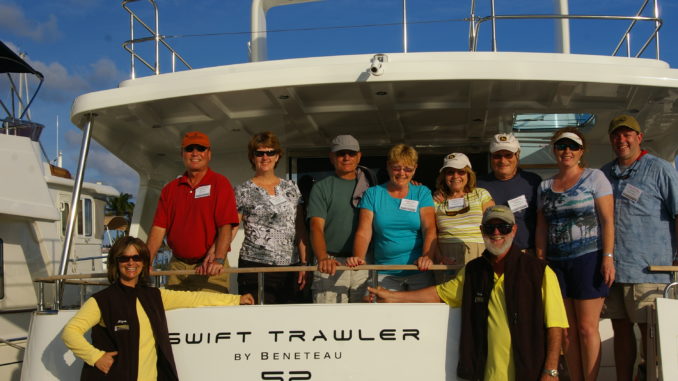 The husband and wife team of Captains Chris and Alyse Caldwell took TrawlerFest Fort Lauderdale by storm! While most of the country dealt with the cold winter climate all who attended this cruising event were treated to balmy Florida weather, a bit of wind, lots of sun and tons of FUN!
At the pre and post fest TrawlerFest University we shared the tricks and tips of boat handling in a hands-on couples-oriented two-day seminar. This wonderful TrawlerFest University Course has an emphasis on team work. Look closely at the photos below and you might recognize a few friendly faces!!
For two days along the South Florida ICW we worked together with four couples aboard a beautiful Beneteau Swift Trawler 52. We each took turns line handling, maneuvering, trip planning and even performing basic PM in the engine room. Our class discovered the benefits of the full walk around decks when docking in gusty winds as well as the advantages of a spacious engine room.
During TrawlerFest we presented Bahamas Bound: Cruising the Abacos, Confessions of a Galley Slave, Changing Your Fuel Filter Without Spilling A Drop, Managing your On Board Electrical Systems and Whistles & Lights: Rules of the Road to standing room only crowds. We had a terrific turnout at all our seminars.
Next stop is TrawlerPort Palm Beach…will you be there?