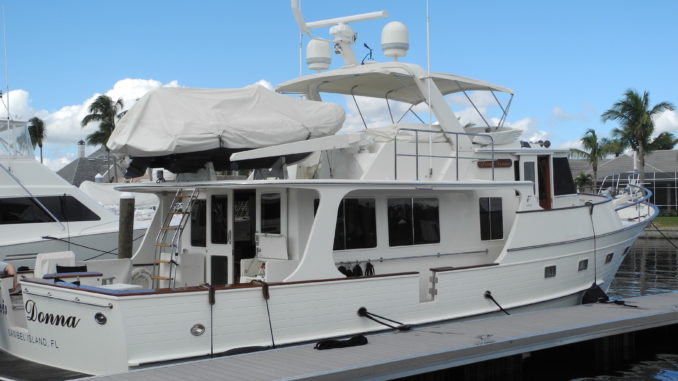 With a home port of St. Charles Yacht Club in Fort Myers Florida, this Beautiful Fleming found her home with new owners. Wanting to know more about vessels systems, docking and anchoring, they called Captain Chris.
Because they had already attended our 2-day seminar in Vero Beach we could fast track through the below deck systems. Two things which needed immediate attention and only one had anything to do with the boat. First, we discovered sluggish steering and the simple fix was to pump up the air pressure using a bicycle pump.
The second concern was a shoaling entrance channel that had temporary buoys. Another easy work around. Simply honor the newly placed buoys as we traveled the now narrow channel in and out of the marina. This is a terrific example of why we say look out the window– don't rely exclusively on your chart plotter or online resources. Nowhere could we find any notation that these additional buoys had been placed to deal with the shoaling channel.
Docking practice included bow and stern in, with and without thrusters at fixed and floating docks. We even took advantage of the nearby pile driving crews lunch break to maneuver between the barges and back, like an obstacle course. What a confidence booster!
Check out the photos below including the video with the temporary buoys. Then imagine yourself at the helm of this fabulous Fleming and Ask Captain Chris how we can help you get started on your own adventure. 772-205-1859