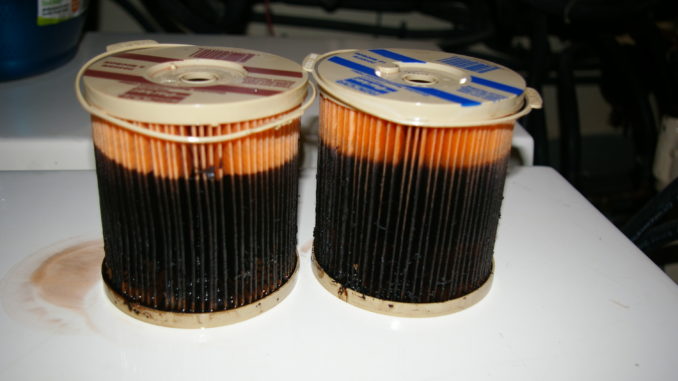 Think you are ready for your shake down cruise? Fuel filters are key items not to be overlooked. Look at this fine example of a filter that was VERY overworked and essentially ineffective…four new filters in less than 2 hours can do that.
The boat sat at the dock for almost 6 years before the current owner purchased her. Running in the intracoastal, the sludge stayed at the bottom of the tanks. When we headed out into the ocean the fuel sloshed around in the tanks and stirred up the sediment. This sediment then plugged the filter preventing the fuel from passing through as well.
The engines starved for fuel, gave up the ghost and fortunately the owners were prepared with a SeaTow insurance program. This boat was towed, needed to have the fuel polished and a few hoses replaced before her engines were happy again.
This new owner originally planned to head to the Bahamas for her first shakedown cruise. Fortunately we convinced them that this old girl needed to prove herslf close to shore for a just-in-case situation like this. As they say in the scouts, "Be Prepared!"