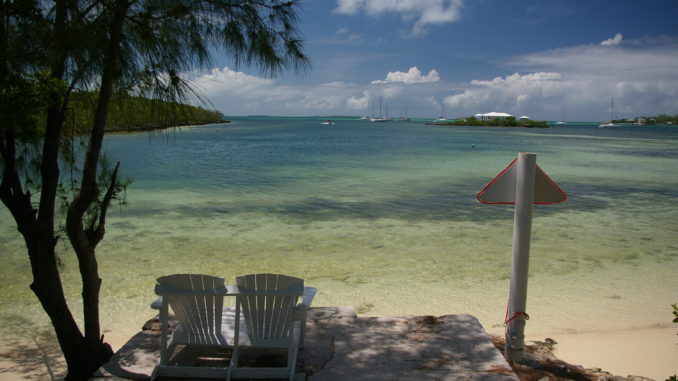 A cruise to the Abacos is no longer the great mystery it once was.
(This article is meant to accompany a presentation by Captain Chris. Check our calendar to see when we will be presenting this popular topic. While it does include many factoids, Ask Captain Chris if you have additional questions that will make your cruise to the Bahamas an adventure of a lifetime!)
Modern Electronics make the crossing easier and in less than one day you can be anchored on the Bahamas Banks or docked in a wonderful marina with a fabulous restaurant awaiting your arrival. Customs & Immigration is easy, too.
NEW WEBSITE: http://www.myoutislands.com/bahamas-islands/abaco
CRUISING WITH PETS: click here for contact information.
Before you go we suggest:
Start with a few good Abacos Cruising Guides like the Skipper Bob's Bahamas Bound book, Steve Dodge "Cruising Guide to Abacos" and the Waterway Guide Bahamas edition. Reasonably priced with the pertinent GPS waypoints and general rules to be expected in the Abacos.
Obtain paper charts for the area you plan to cruise. The GPS chip may not have the detail you prefer when in paradise.
Contact United States Customs & Border Protection-CBP– to purchase a decal before leaving the US to help expedite your return to the US. 1-800-432-1216
Upon returning to the US, telephone Customs to report your arrival. They will ask a lot of questions then may tell you and everyone aboard to appear at an immigration center in less than 24 hours. Write down the CBP referral number they give you to be used at immigration.
Local Boater Option- LBO- is also available for boat owners to preregister their Immigration information. In Florida, with LBO you may not be required to appear in person each time you return from the Bahamas. Contact CBP for the nearest office to make an appointment; bring your passport, registration of vessel, and custom decal number with you. At no cost, you receive a card with directives for all future returns by boat into the US.
Don't forget the Q flag & Bahamas Courtesy flag before you leave the states.
Supplies. Review all provisions in advance of your cruise. Bahamian grocery stores have improved a lot, both in locations and fresh produce but you may want to stock up on some specialty items. Remember to fill your prescription drugs, bringing enough to get you back home. Drinking water? No worries as you can purchase water almost anywhere there is a marina. Parts for your boat may not be available so carry spares with you. Even if you are unable to make the repair just having the correct part will get you on your way after you locate a repairman in the Bahamas. Ask about our spare tools list for some suggestions.
Communications The modern world has arrived in the Bahamas.
Cell phones. AT&T works well in most populated areas. Your cell service may provide a discount plan for the Bahamas. Check it out before you leave the USA.
Local cell phones. Purchase a Bahamian cell phone after arrival in the Bahamas to save $$
WI-FI. Wireless system subscriptions for computers are available via towers on the major islands providing service at anchor. Here's the home page of Outer Island Internet OII Click here
Snail mail. Locate a boater sending friends home on an airplane. You can hand them your unsealed, stamped US Mail for them to drop in a mailbox in the US. Any other way can take a long time.
VHF radio is THE communication system in the Bahamas. A cruisers' net is operated in the Abacos every day on channel 68 at 815 AM. Listen in and learn about the days activities, announce your arrival and ask for any friends you are looking for. Use the VHF to call Taxi Cabs for a pick up, restaurants for reservations or the Ferry to get from one island to the next. Almost every "out-island" business has their VHF tuned in.
Emergencies To reach a boat cruising here just address your e-mail to cruisers@oii.net with the boat's name as subject, then in the body add the nature of emergency. Short messages only, no annual family newsletters.
Getting there and back.
Photo copy all your legal documents before leaving the US. Vessel registration, driver's license, passport, insurance, pet papers.
Money. One US dollar is equal to One Bahama dollar. Pay your custom fee in cash and get a receipt. Spend all your Bahama money before coming home. Credit card use may incur an additional fee for use.
Departure points include Miami, Fort Lauderdale, Palm Beach, Stuart and Fort Pierce, Florida. Return points are the same with one exception – St. Lucie Inlet in Stuart can be a tricky inlet in bad weather.
Our #1 rule is: Do not attempt crossing the Gulfstream in any wind with a northerly component. This means NW, N or NE. The North wind blows across the top of the northerly current of the Gulfstream making the waves much larger than normal. Wait another day and the stream usually calms.
Understand the Gulfstream current and use it to your advantage when possible.
West End is the most common first landfall. Customs and Immigration are on the marina property. Two terrific restaurants are on site.
Crossing "The Banks". Local knowledge is useful; consider your boat type, the weather and tides. Logical routes to cross "The Banks" are Indian Rocks at high tide or Memory Rocks at any tide.
One typical route is to head towards Mangrove Cay, Great Sale Cay, Center of the World Rock and Spanish Cay. Spanish is also another Customs and Immigration Center if you prefer to go straight across and skip West End.
When crossing Whale Cay you MUST go in the ocean in good weather. Do NOT attempt sneaking at idle behind the island. The locals do not do it for a reason.
Let your Great Adventure begin. You now have islands surrounding you to the north, east and south with their "mainland" to the west. Blue clear water, great weather, beautiful sunsets and the 5 o'clock somewhere attitude.
Enjoy paradise.
Go play with abandon and dance to the music of the sea….