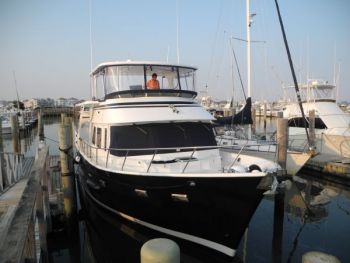 Training and Delivery of DeFever 50 foot Motor Yacht from Norfolk VA to NYC
Sometimes you run out of time or run out of crew and need some help. When you need a delivery captain or if you just want some refresher training while cruising your boat, Captain Chris can step in to help relocate your boat back to it's home port...and offer experienced recommendations along the way.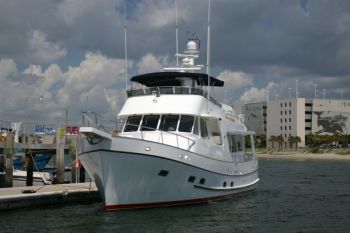 Summer Relocation - Royal Passagemaker 57
Vessel type/length - Royal Passagemaker 57
Cruising speed - 8.5 knots
Engine type – HP Single CAT 3300, 6 cylinder
Wing engine, 4 cylinder ISUZU
Delivery from - Marriott Hotel & Marina, Stuart, FL
Destination - Brunswick Landing Marina, GA

Selene Trawler 48 Heads South for the Winter Season
Sometimes as a boat owner, you don't have the time to relocate your boat to the warmer southern climate. Captain Chris has a solution and the owners of this gorgeous Selene trawler now have their boat in Florida, ready when they are!

Beneteau Swift Trawler 34 Stuart to Miami
Early Monday morning we arrive at this brand new sporty Beneteau Swift Trawler 34, hop aboard and do our safety checks in preparation for a delivery to Miami Beach. The new owner won't be aboard our trip from Stuart, FL to see how well the boat handles…there's always tomorrow when we do trawler training.

Kadey Krogen 58 Trawler Nonstop Ocean Operation from Fort Pierce, FL to Norfolk, VA.
It is summer and time for the another migration to the Chesapeake Bay. Steve and Sandy asked us to travel with them on a nonstop ocean cruise from Vero Breach, FL to the Chesapeake.

Trojan Sportfisherman Delivery to Australia via Palm Beach Freighter
We are on another delivery to Palm Beach. Easy trip you might say but then she must be prepared as deck freight, shipping to the new owner in Australia!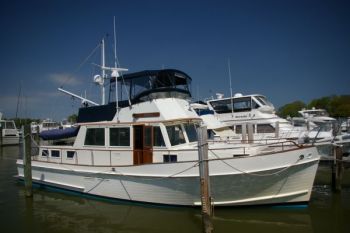 Grand Banks 46 Delivery from Hollywood Fl to Fairlee Creek MD
The Snowbird migration is in full swing and we have a Grand banks 46 Trawler to deliver home to the Chesapeake Bay. This annual boating ritual coincides with another related migration- The Loopers. The American Great Loop Cruisers Association is also headed north to their Spring Rendezvous in Myrtle Beach, SC. As a Lieutenant Sponsor we are proud to fly the Blue Burgee as we cruise north on this wonderful trawler.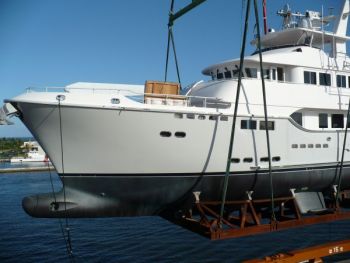 Kadey Krogen 48 Delivered from Taiwan to Your Marina
As we arrived at commercial pier number 25 in Port Everglades we count 6 yachts… and our Kadey Krogen is the smallest at 48 feet. We feel lucky that we are scheduled to be the second yacht and number one is all ready to be hoisted up and over the side. Unlike unloading a sack of potatoes, there is a real skill and plan needed to expertly launch a fine yacht from this grimy freighter. We are about to learn the one NEW hitch in our usual plan...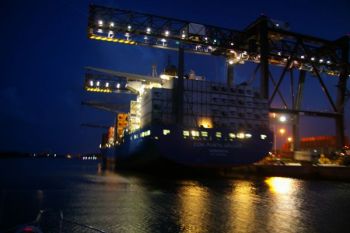 Swift Trawler 42 goes to Chile Part 2
Part one left us at the scheduled haulout to get the Swift Trawler 42 measured for a shipping cradle. Remember, its final destination is South America.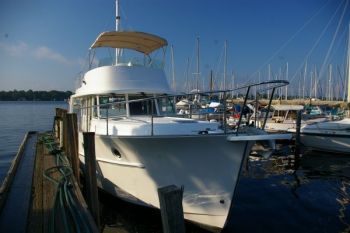 Swift Trawler 42 Goes to Chile Part 1
Vessel type/length - Beneteau Swift Trawler 42 foot
Engine type/Horsepower - Twin Yanmar 370 HP
Cruising speed - 24 knots or more economical 18 knots
Starting Location - Orange Park, FL
Destination (part 1) - Fort Lauderdale, FL