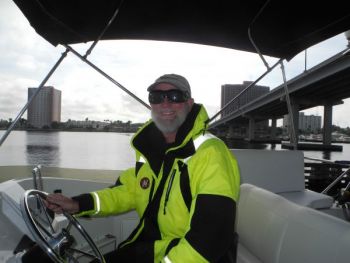 Learn more...See more newsletters....
...by signing up to receive your very own e-newsletter from Captain Chris! In 2013 we changed to a different format and all newsletters since then are archived in a different location. More newsletters can be accessed if you....

Boat Show Season Wrap up- Let's Go Cruising!
TrawlerFest Anacortes 2013 was a wonderful event this past weekend. We started off teaching for two spectacular days of University classes, Building Cruising Confidence as a Couple aboard a Grand Banks provided by Russ Meixner of West Yachts. Then four days chock full of a seminar series allowed everyone from the dreamer to the seasoned helmsman to learn more about cruising. Of course we can't forget all the terrific trawlers down on the docks, raring to go!

Meet Captain Chris at the Gulf Coast Yacht and Boat Show
Captain Chris Yacht Services will present seminars at this terrific Gulfport, Mississippi location APRIL 5-7, 2013. Hope to see you soon!!

Panama City Boat Show Welcomes Captain Chris
Did you set your clocks ahead so you don't miss out? It's less than one week from the Panama City Yacht & Boat Show! Hope we'll see you there at the FREE seminars including anchoring, cruising excitement and galley tips for those who would rather not be camping- regardless of the size of your boat....

Join Us In Miami At Cruiser Port!
Captains Chris & Alyse are at TrawlerPort in the Miami Yacht & Brokerage Show!

Becoming A Cruiser with Captain Chris in the New Year
TrawlerFest in Fort Lauderdale FL - Here we come! Have you registered yet for this terrific trawler show? If you can't make it to Fort Lauderdale then maybe we'll see you at...

Merry Cruising Christmas from Captains Chris & Alyse
Get ready for the winter solstice with a pre-Christmas cruise. If you are a little jittery about the end of the Mayan calendar just hop in your boat and go cruising...
WHAT? You don't have a boat yet? Then hurry and call Captain Chris to make your cruising dreams come true.

Join us at the St. Petersburg Power & Sailboat Show 2012
So many of you have asked how you can find us at the St. Pete Show....so here you go!

Trawler Talk and Walking the Walk....Living the Dream
Brrr! It's already winter in Connecticut with snow on the docks. Thanks to Captain Henry Marx of Landfall Navigation we can show you what boaters up north must contend with. Lucky for us we are cruising in Florida aboard SANDY HOOK! Come on down to the sunshine state and warm your soul while learning about the cruising life. If you are one of the many who plan to travel and train with us in 2013 HURRY! Let us know your dates as our calendar is filling rapidly...

School Daze Are Here!
School is in session all year-round here in Florida aboard our training trawler SANDY HOOK. It may be August but Autumn will soon be in the air bringing BOAT SHOW Season!