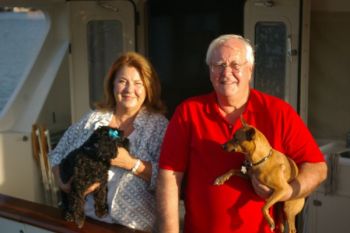 Experiences From Kadey Krogen 58 owners Sam & Anne Pratt
Here's a note from Kadey Krogen 58 owners, Sam and his wife Anne who take time from their business, Rockland Manufacturing, to cruise around the Chesapeake Bay in the summer months. They can also be found aboard their KK58 on the Treasure Coast of Florida during the winter and early spring. Traveling with the Pratts always includes their "girls" Patsy and Tina. Thanks for the good wishes!

Curtis Stokes Says Thanks
Curtis Stokes is a professional Yacht Broker with offices in Fort Lauderdale FL. Our paths crossed most recently during a lengthy sea trial and survey. In the end, buyer, seller and broker were all pleased with the outcome.

Grand Banks 46 - SOFT LANDING sends thanks
Capt. Chris, I thought you would enjoy an update on Soft Landing....I just wanted to let you know we were enjoying the boat and to thank you for all your help in getting us off on the right foot....(click title/scroll down for full comments from Soft Landing)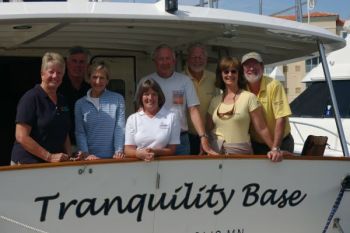 Kudos from Krogen Owners
The following is an article written by Pam & John Loving owners of Kadey Krogen COMPASS ROSE for their Kadey Krogen Newsletter. Thanks so much to Pam & John and the entire Krogenite Krew. It was a fun day on the water and we are so pleased you asked us to join you! (READ MORE...):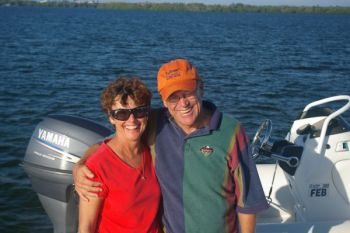 Compliments from Darling Kadey Krogen 44
Buck and Haldine are the proud new owners of a Kadey Krogen 44. They planned to do the Great Loop in one year...until the cruising bug hit them. We have no doubt that one day the ends of the circle will meet but until then they are enjoying every moment of their journey as they meander about the waterways: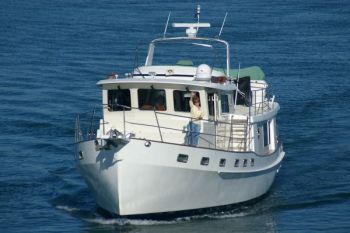 Kind Words from LiLi KK48
Thanks for the kind words Betty! Betty Robinson is the owner and captain of LiLi, a 48ft Kadey Krogen. LiLi can be found anywhere along the east coast from Annapolis to the Florida Keys: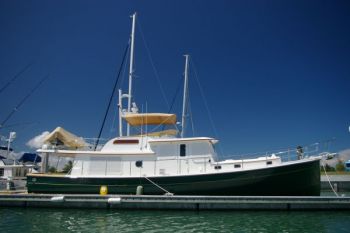 Thanks from Krogen Express Yachts
Betsie & John Tegtmeyer, owners of Krogen Express Yachts asked us to speak at the FIRST Krogen Express rendezvous in Stuart FL. As we are from New Orleans, the requested topic is "Cruising from Tarpon Springs on the west coast of FL to New Orleans". This is part of the Great Loop and is a terrific trip to make with a KE52. We are delighted to share informaton about our travels anytime. Here's a note from Betsie: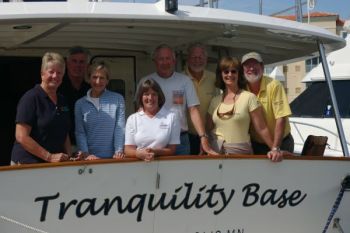 More Happy Krogen Owners
Chris and Alyse:

Just a short note to thanks much for the time you spent with us on Sunday. It was a good learning experience and it was really fun to make some new friends.
Best of luck with your business venture. We will happily refer your names to anyone needing training or delivery service.

Thanks again,

Mike and Casey Ruhr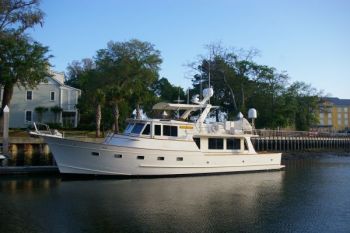 Fleming 55 Leatherback Sends Their Best
Verla and Bill keep us posted on their exciting activity as they adjust to their new surroundings in Charleston SC. They have a Fleming 55 and winter in Florida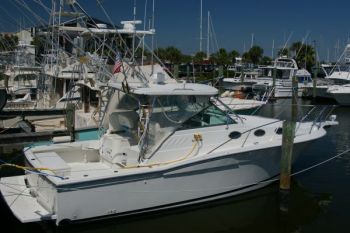 Wellcraft Coastal 330 owner, We call him Captain Knowledge...
Steve Stephens is the owner of a fun Wellcraft Coastal 330. He and his buddies take her out fishing with great success! Steve writes: