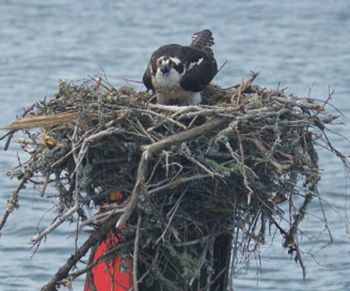 An Osprey not so happy to have us near the nest. It's hard to avoid disturbing her since she's chosen a channel marker for her home.
Additional Images

What incredible wildlife we see offshore and inland along the waterway. A small reference book can help even the novice become an avid bird watcher. While we are offshore we maintain a sharp look out, not only for the obvious boat and ship traffic but also for the elusive sea turtle, mola mola fish and playful pod of dolphin. As quick as you can say, "look over there!" a splash may be the only evidence of a leatherback turtle or even a whale.

Scroll down to the bottom of this page then Click on each photo below to enlarge picture and read captions. We'll add to this page as we're fortunate enough to catch the sea life on film. So please check back as you never know what else we may have "captured."

 

And here's a really cook video that shows what dolphins do while they are under the waters surface...